| | | |
| --- | --- | --- |
| | | Mr Gower and Mrs Waring |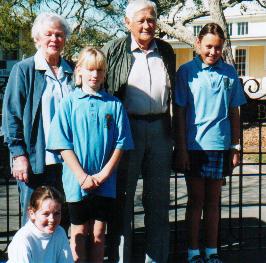 Mr Gower Mrs Waring
Pupils 1933 - 1937
Food
Mr Gower: We used to get a shilling for our lunch for fish and chips at Devonport, remember thats all you could get in those days, fish and chips. Then, the school milk came in, in 1937 and we used to have school milk every day. The boys had to bring that crates in that were delivered to the gate. At 10 am we'd sit down and all have our half a pint of milk. Another thing, in the winter we used to have cocoa
Mrs Waring: Yes, we used to bring our own mugs and theyd make big, hot mugs of cocoa and it was dished out to us at playtime. We didnt have a canteen, we just had the milk free and as I say, cocoa in the wintertime and we had the milk all year round. In those days there was no town water here. We had two tanks. In the summertime we used to watch the water supply, because we only had two tanks for the whole school. We used to have to watch how much water we used. We used to have to bring a drink to school.
Sport
Mrs Waring: I remember going down through the bush to Castor Bay and learning to swim. I was terrified of the water and the teacher at the time used to hold us up by the togs at the back. I used to think my togs were going to break and I was going to go under. However, they taught us to dog paddle and swim and get our 25 yard certificate.
We went to Milford pools for that, didnt we, to qualify for the school sports...
Mrs Waring: Yes, we did. There was a big pool on Milford Beach in those days, that was probably one of my lasting memories.
Mr Gower: Of course we played all the sports: hockey, football, cricket, but in those days we werent issued with gear you like you are today. We had to buy our own cricket bats and we had to go into the bush and cut our own hockey sticks out of the bush if we wanted to play hockey.
Mrs Waring: We played all sports here: netball, basketball as we called it, nine aside not like your seven aside. Wed have interschool sports. Wed go to Milford School and have other schools here to play various sports.
Every two years we had a big sports day with all the other schools. That went on for many years. I think the netball court was where it is today but we didnÂít have as much room because we didnt need it.
Duties
Mr Gower: You remember going down to pick the mail up each morning from the old Campbells Bay post office. In those days there was no postman delivery, there was just a general store in Campbells Bay and one of us had to go down each day and get the mail for the school and of course it was usually the teachers pet who got the job of going down to get the mail. I got it most times!! I donÂít think I was really the teachers pet.
Mr Gower: We had to clean the school didnt we.

Mrs Waring:Yes we did. The senior girls had to go and put the jug on for the teachers morning and afternoon tea, then we left it in the staffroom and then the teachers took over.
Family
Mrs Waring : We were a family of seven children and we lived on a farm where Sunset Medical Centre is now. That used to be our fathers farm. We walked to school from there rain, hail or shine no school buses in those days. There was no power. We all had to put up with no electric power. We all had candles and lamps.
Special and memorable times
Mr Gower: Each year we had a picnic ,a school picnic on Quick's Farm and everyone got a prize whether you won or you didnt.
Mrs Waring: We used to have egg and spoon races and sack races, all sorts of races and everybody took a picnic. it was lovely! Always once a year.
Mr Gower: There was in those days, of course, no power, we all had to put up with no electric power. It was all candles and lamps.
Mrs Waring: We always had these lovely gala days once a year at the school and we used to put on items like folk dancing and work displays and all sorts of things. It was a great day.
Mr Gower: And we had, once a month, we used to go Devonport to the technical school. The boys used to learn woodwork and carpentry and the girls used to learn cooking.

Mrs Waring: The boys used to eat all the goodies on the way home on the bus!
School
Mr Gower: Well I think the school is out of this world, the way it is today. In our day we started with one room and finished up with two classes and two teachers and eighty kids. So from those days to this day, I just cant get over it.
Mrs Waring: It is amazing isnt it. I think there used to one school bus that went around the Bays. It would come right through Browns Bay, right through to here. But there was no bus of course in our road. The school has certainly changed. I think as far as schools go in Auckland it must be one of the nicest spots there is.
Mr Gower: In the summertime we used to go down to Castor Bay beach to go swimming.
Mrs Waring: We used to go walking. perhaps walk down to Campbells Bay and back again but they were not field trips as you know them today.
Our teachers were very nice. We had a lady teacher called Miss Born. When we first came here our headmaster was Mr Rushbrook Walter Rushbrook. And then when he left we had a Mr Wilcox. I dont know where Mr Rushbrook went to.
Mr Gower: I think Mr Rushbrook retired.
Mrs Waring: I think he did. He was an old man then. In between Mr Rushbrook and Mr Wilcox we had a relieving teacher called Mr Batty. And he was true to his name he was batty! I think they took him away in the end.
Mr Gower: He was good.
Mrs Waring: So there was only the two teachers.
Mr Gower: Sometimes, in the summer it was that hot we used to get half days at school. We would go to school to midday and go home. So we only went to school in the summertime for half a day.
Mrs Waring: When we first started at the school I suppose there was only about 50 and there probably wasnt any more than that. And by the time we left there was 80 so, it was getting a big school then. Not as big as today. We didnt really have a uniform but most of the girls used to wear a gym frock, a white blouse and a navy blue cardigan. No, not really a uniform.
Mr Gower: In those days there was no town water here. We had two tanks and in the summertime we used to have to watch the water supply because we only had two tanks to the whole school
Mrs Waring:I think this would be one of the nicest schools and in the nicest areas in Auckland with the beautiful views and I really enjoyed it then. We had to draw Rangitoto a lot in our drawing classes and if there was a ship going out we would have to put the ship in. We used to go out a lot and do sketching outside and that sort of thing for drawing class.
Mr Gower: All the Redwood trees in the forest were donated by our father
Mrs Waring: I think the forest today is lovely. Its where we used to walk down to the beach for our swims!!!