Our Cultural Heritage
My Grandfather's painting
This painting is a copy of a painting called Mother and Child by a famous German artist called Albrecht Durer. It was made by my great grandad, Johannes Martinus Rammers. My great grandad was an art teacher. He had to earn a living for his wife and eight children.
He worked in the daytime in the Dutch city of Den Haag as a teacher. He built his own classroom in which every pupil had their own desk. He also wrote a book with an orange cover which was lost when he died. To get to work, he cycled for three-quarters of an hour to and fro from Voorberg, a suburb of Den Haag, even in winter.
He had a private pupil whom he taught at home, called Wolfgang Bing. Wolfgang came from a Jewish family of four boys. He was the youngest. My great grandad was offered a free trip to Italy by Wolfgang for art purposes. It was a wonderful experience and he even had a private audience with the Pope Pius X1.
Jewish people were not very popular with the Germans. They had to wear a star on their coats to be visible. Wolfgang and his family were picked up and taken to Oberammergau and put in an oven to be gassed. It was a tragic finish and very upsetting for the Rammers Family.
My grandfather made two copies of the Durer's Mother and Child painting. The first one is supposedly the best, but I can't see any difference. My two aunts got these pictures for looking after their mother because she had strokes all the time. In those days there was no remedy for the illness.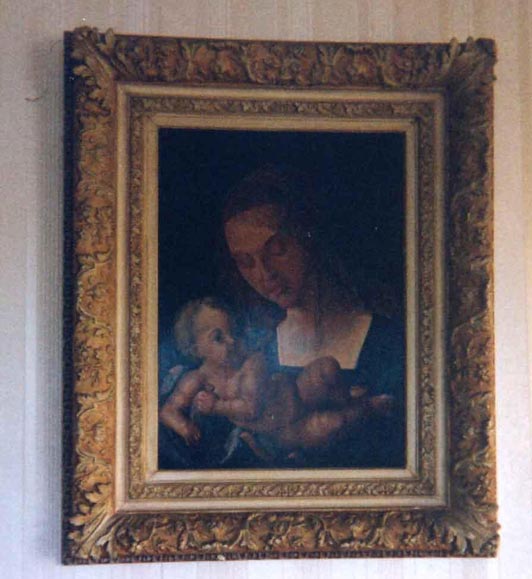 This is copy of a painting called Mother and Child by a famous German artist called Albrecht Durer
(Photograph copyright Karl, 2003)