| | | |
| --- | --- | --- |
| | | Kennedy Park |
INTRODUCTION
Kennedy Park is a park near our school. It runs along the clifftop and during World War II the army put big guns up there to protect the harbour from enemy invasion. The gun emplacements are still there and the park is used by local people in their spare time.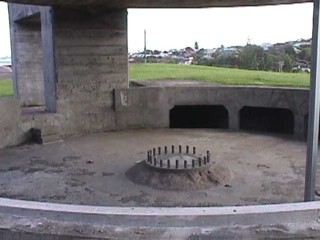 Gun emplacement showing entrance to tunnels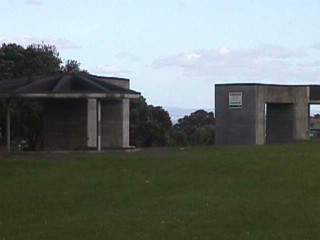 Two gun emplacements, linked underground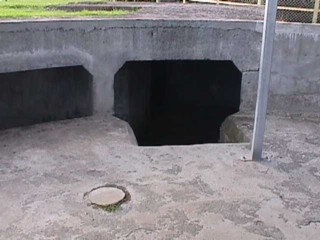 Entrance to tunnels, now locked as no longer safe
These are the concrete structures where the guns were hidden. The tunnels go right underneath and come out in the cliff where other guns were pointing at the shipping channel and looking for enemy boats and submarines. Some people have told us a Japanese submarine was sighted but not fired upon.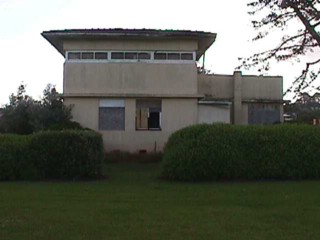 Headquarters, disguised as Spanish Bungalow to be renovated as Italian Icecream Parlour in 2002
The headquarters was built to look like a Spanish Bungalow and included a false wood and tile roof to hide the concrete roof and what was really a bunker. In later years it has been used by the Boy Scout movement and amateur radio enthusiasts. It is now all boarded up and it is no longer safe. The tunnels all connect up with shelter for the soldiers and space to keep ammunition.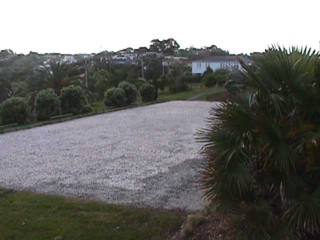 Recently formed and popular Petanque court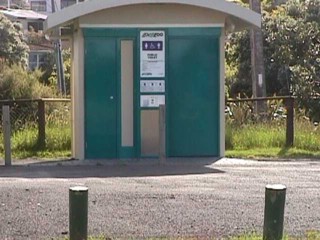 New unisex public toilets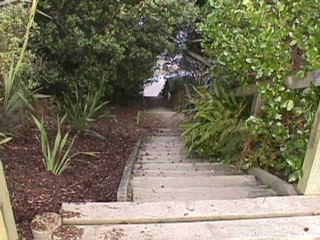 Steps down to secluded beach
There is a new playground, public toilets and petanque court and access to the beach is down a huge long set of stairs. The beach is a nice place to walk because not many people use it, apart from dogs and their owners. It is not always good to swim at though, because there is a sewage outpipe not far away - the sewage has been treated before it is discharged, except when then has been heavy rain and the drains overflow.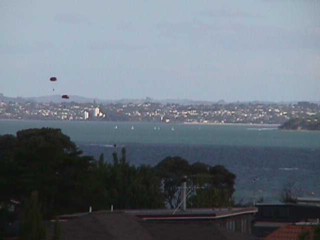 Paragliders leave from Kennedy Park and fly towards Takapuna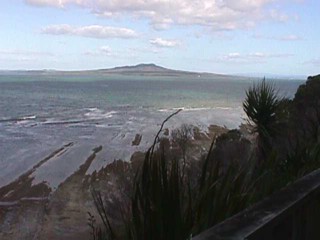 Rangitoto Island from Kennedy Park
There are wonderful views over the harbour to Rangitoto Island and down to Takapuna Beach and the city. It is a very pretty park to walk around. You can often see paragliders there and parachutists too.
Kennedy Park Timeline
Pre-European - Maori living at Rahopara Pa approximately 350 years before European settlers arrived. Archeaologists found a piece of charcoal approximately carbon-dated to around 1490 A.D.
1700s - Chief Taramokomoko was killed by his brother-in-law Kapetawa and the pa destroyed.
Pre - European - Land may have been known as Tahu Rua Bay.
1864 - John Logan Campbell, a doctor from Edinburgh, owned 2,235 acres of land from Castor Bay to Okura.
Early 1900's - Temporary camp volunteers at Castor Oil Bay.
1934 - The land was acquired for defence purposes.
1939 - 4th September - The Prime Minister, Michael Joseph Savage, announced that New Zealand was at war with Germany.
1940 - The park was selected as a defence battery.
1941 - The attack on Pearl Harbour got everyone worried.
1941 - The guns were constructed. They were used to cover what was seen as a blind spot in Auckland's coastal defence. The gun emplacements were built as pretend houses and the headquarters was built as a spanish bungalow.
1942 - The home guard and army wired the local beaches against the invasion of the Japanese.
1942 - They decided where the defence units were going to be.
1951 ­ The guns were fired for the last time and then the tunnels were used for storage until abandoned for the army in 1962.
1963 ­ J.F. Kennedy was murdered and people all over the world were so shocked that they named many parks after him. The North Shore Council named this park J.F Kennedy Memorial Park.
1964 ­ The installation remained in use as an army supply depot.
1965 ­ The council was going to use the park as a marina, but decided to preserve it for historic reasons.
1967 ­ The gun emplacements were enclosed to provide covered areas for civil defence purposes.
1960's & 70's - Spanish bungalow was used as a scout den and radio club headquarters.
2000 - A new playground was established with swings, a slide, a merry-go round, a see-saw and the carpark was changed to make it safer for the children. Two new toilets were installed by the playground. Phoenix palms were planted and a petanque court was laid with white shells.
2001 ­ The gun emplacements and mess hall are still there, although the mess hall is all boarded up and the tunnels are closed for safety reasons. There is only one state house left now, with a family living in it.
2002 - The North Shore City Council is planning to renovate the observation post, hopefully starting in February 2002 with completion in the winter. They will be restoring it as an Italian Icecream parlour, as it was during the war. This is stage one of a two stage project, stage two being the interior. The public are invited to submit ideas for the interior to the council.
The park is visited regularly by many locals and tourists, the views are stunning and it is a great place to fly a kite, have a game of cricket or a petanque tournament.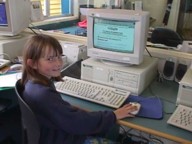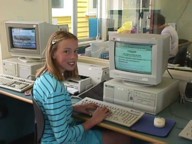 Amber and Emma
This project was researched by Amber & Emma. If anyone can provide any more information or photographs about the park, our school would be delighted to hear from you.
Back to Our Project