| | | |
| --- | --- | --- |
| | | Rahopara Pa |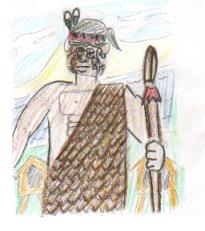 Maori warrior drawn by Jonathan
Where is it?
Rahopara Pa is situated beside J.F. Kennedy Memorial Park in the Castor Bay area on the North Shore, Auckland, New Zealand. You can visit Rahopara Pa from the cliff top path, from the beach by going up the stairs, or drive into the carpark from Beach Road.
What is it?
Rahopara Pa is a site formerly occupied by the Maori. (Native New Zealanders) The Pa is one of the last surviving headland Pa on a promontory. It was a village where Maori lived.
History
A) First Occupation
The First Occupation was when the Pa was its full size and relied on its natural defences such as the cliff and the natural ditch. The Pa was even bigger than you can see it today with some of the Pa stretching beyond the fence line.
B) Second Occupation
The Second Occupation was when the Pa was reduced to a third of itís size and was used as a small fighting Pa. The Pa was destroyed by Kapetawa and never inhabited again.
C) Legend
When Kapetawa was a boy he was invited to see his sister Taurua who had married Taramokomoko chief of the Kohimaramara Pa. Kapetawa and some others were involved in some prankish incidents but when they were caught stealing from the kumara pits Taramokomoko got so steamed up that he left Kapetawa stranded on Te Toko o Kapiti (Bean Rock) where he nearly would have drowned, except his sister rescued him and took him back home to Waiheke. Growing up in Waiheke, Kapetawa nursed his revenge against Taramokomoko. He grew up to be a renowned fighter. He put together a band of warriors and hunted down Taramokomoko, destroying the Pa along the way. Kapetawa finally caught up with Taramokomoko at Rahopara Pa where Kapetawa killed him and destroyed the Pa.
How can you tell the Pa was there?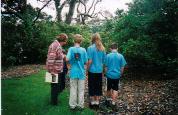 Mrs Bartlett and the research group
As we look at the middens (refuse pits) and kumara pits, Mrs Bartlett tells us what they were used for.
As you walk through the Pa you find the ground is not flat. Places have been excavated and when the Maori lived there they were middens (refuse facility), Hangi (a cooking facility), terraces, drainage ditches, kumara pits and one deep trench which now is overgrown with pohutakawa (New Zealand Christmas tree). This trench is natural and was formed by a river that flowed in prehistoric times. The terraces didnít have palisades unlike most fortified fighting Pa.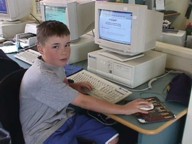 This report has been researched by David & Jonathan
Back to Our Project