Koru Pa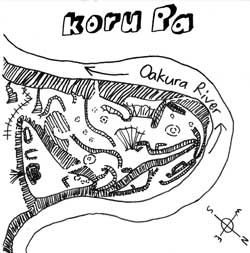 Koru Pa
Koru Pa is situated within Taranaki, off Wairau Road in Oakura. This pa is an archaeological site of huge importance for the area. One of the reasons it is such an important pa, is the way it has been preserved by the community.
The features of Koru Pa that were built while the pa was occupied are still partly standing today. These include the trenches, walls and natural forms of defence used on the pa.
The pa is also unique, as the Oakura River curves around the pa (giving it the name Koru Pa), cutting down the attack route possibilities from the attacking tribes. The river was also a big advantage when it came to transport and food sources. It helped to support the people of the hapu in times of drought.
The pa is set out in levels, with the most important people living at the top and least important at the bottom. The important people were therefore less vulnerable to attack. The slaves would do things like gathering the food for the hapu while the chiefs and more valued people would fight the attacking tribes.
To Maori, fighting was an honourable thing to do for your hapu and slaves were not worthy enough. The people of the pa didn't stay at the pa all the time but took refuge there when under attack.
Overall, the pa makes the most of the location and natural surroundings to provide protection to the people. This is partly what makes this place so tapu for Maori and even other nationalities. Why? Because each nationality can find something they can appreciate about the pa and relate to within their own culture.
Koru Pa really is very special.