Northland School
Northland School Centennial
Queen Carnival
Northland School parents have contributed in many ways over the last 100 years of the school.
The Queen Carnival was a fundraiser for the tennis courts that were being proposed at the time.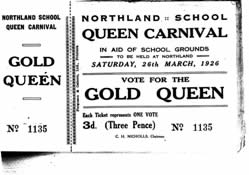 The first Queen Carnival was scheduled for 1921 but money was hard to come by and was postponed until 1924. In 1924 an outbreak of poliomyelitis held the carnival up yet again. It was finally held on the 27th of March 1926.
The carnival began as a fair outside of the school with stalls selling things. The queen was to be the person who ran the stall which made the most money. Lily Akel turned out to be the lucky person and was crowned the day after in St. Anne's Hall. Her pages were the Blackburn twins, Helen and Joyce. It was thought to be the outstanding feature of the year and a complete success.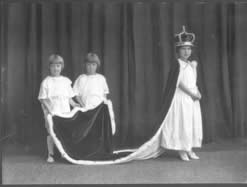 Next to the tennis courts there is Northland Park, which was levelled out by the parents of children who went to the school. This is an example of how in the early years of the school there was huge parent help and support.
Many decades later, parents are still helping out in many ways. In 1980 they dug out the Activities Centre - now called the Viggers Centre after Don and Elizabeth Viggers. They wrote a book about Wellington Walks to raise money for this project- which was a huge job! Parents have continuously been involved in the school community, such as the School Committee and the Board of Trustees.