Marcellin College
Auckland Polynesian Festival
Malakai's story: Our mothers are important
'Koe ha ho'o mou teunga' is one of the first questions my Mum Penina 'Ofanoa says every night before our Fia Fia night (the fundraising performance held before the festival) starts. Both my parents know how important it is to represent Tonga, especially when we are in a more unique and prosperous country like New Zealand.
When we arrived in New Zealand in 1998 we came with most of our belongings including our ngatus, Ta'ovalas, Kie Kie, and Falas. My mum stopped making them in New Zealand because she had no time due to work and helping my Dad to support the family.
All our ngatus and Tongan items are stored under our beds in order to keep the materials flat. The beds must not be in contact with the windows because the dampness will damage them and isolate them from any bugs.
The ngatus are important as gifts for funerals, weddings, birthdays or any Tongan celebration. All the gifts are incomplete if there is no ngatu. It can be used for a lot of purposes, even as a wall decoration.
For the festival we were told to wear a singlet and shorts inside, and a ngatu of about two metres in length over this. My brother Tuni and I wore a ngatu which was made by my Mum back in Tonga. All the ngatus in Tonga were handmade. The bark from the mulberry tree, or as its called in Tonga, the Fau tree, was used to construct this ancient clothing which is still used by the Tongans up to today. She would use tapioca glue to paste the sections together. It usually takes my Mum about a year to make a ngatu because it takes a lot of love, energy and commitment.
Every night when I came home from school in Tonga she would be using the papa 'i fa to draw the symbols on the ngatu. The diagram on the ngatu would either symbolise Tonga, a story, and a symbol relating to our family or anything else that would satisfy the creator. The ngatu that I wore at the festival, which my Mum had created, contained symbols that represented Tonga. There was the Sila of Tonga, which represented the Government. There was also a picture of the sea eagle which is used to symbolise Tonga in our sports teams. There was also patterns like the Kupesi, which is a Tongan pattern used by most Tongans.
I was proud to wear the ngatu my Mum had made at the Festival. Our team did very well in the Tongan competition. Without all the mothers we wouldn't have achieved our goals.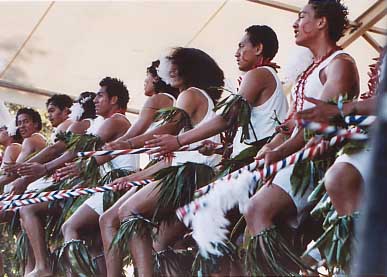 Malakai first on right in the Tongan festival team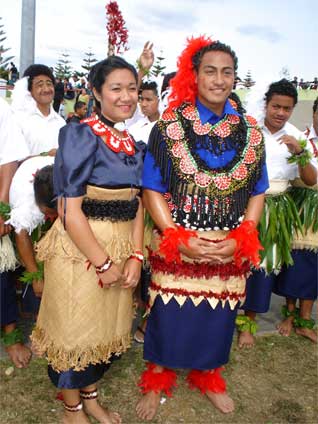 Malekai in his Tongan costume