Marcellin College
Auckland Polynesian Festival
Pauli's story: The story of my ngatu
My auntie and my mum made my ngatu in Lapaha in Tonga. They made it when I was around five years old. All sorts of pictures and symbols are on this ngatu such as a bird, the Tongan shield and the road of pine trees.
The bird symbol is called LUPE in Tongan. There are two stories about this bird. The first is when Noah threw the bird out of the ark to see if there was any water out there. The bird came back with a pine branch in its mouth and gave it to Noah. The second story is about a man eating bird.
On the Tongan shield there are all sorts of pictures. There are pine leaves, three swords, the two Tongan flags, the royal crown, and a banner on which the Tongan motto is written. This says 'Koe Otua Mo Tonga Koe Saku Tofia" The words mean: God and Tonga are my inheritance.
On the day of the festival my mum and dad woke up at about 4.30 am and then they had to wake me up at about 5 am. I woke up, had 5-10 minutes in the shower, got changed, had breakfast and by about 5.30 we departed from home. I live in Blockhouse Bay which is quite a long distance from Manukau so we left very early.
When we got through the gates we went to get dressed for the Taufakanui. We gathered under the trees , next to the stage and got changed.
First I put on my white singlet and then I put on my white shorts. Then my mum and auntie put my sisi on my waist , my elbows and on my knees. Then my Mum put on my vesipa'anga on my ankles so they will make noises when we do our traditional Tongan war moves. Next my auntie put Tongan oil on my sisi paini that was on my elbows, knees and on my waist. I was already and set to go and perform my very best and show the parents , our Tongan group and the other schools what we are certainly capable of doing and how much pride we put into this historic performance.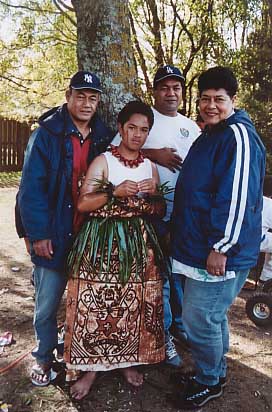 Pauli and his family at the festival