1st generation – Patrick Hehir
Patrick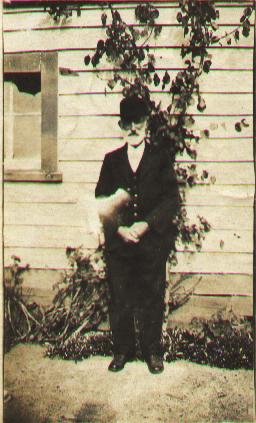 Patrick was the eldest child of the first of two families born to John Hehir of Maghera, near Tulla in Co. Clare.

In 1875 he and his younger sister, Mary Ann, arrived inWellington, New Zealand. on the Rodney on its maiden voyage. Also on the boat were sister and brother, Anne and William Delahunty, whom Mary Anne married.

At first, Patrick worked on the Wellington wharves where he met John Hurley and they accepted a job at Whiskers farm outside Feilding. They traveled by boat to Foxton and made their way to Fielding. Whiskers employed about 20 men and women, doing milking and general farm work. Some women worked in the house.

The life was so agreeable that John sent for his sister to come out to the land of plenty. She was at that time a tailoress in New York so she said she would emigrate to New Zealand but only if she could go home to say goodbye to her parents. A doctor's wife, for whom she had worked as a nanny when she landed in America, advised her to take the opportunity and paid her fare back to Ireland. (She also gave her a heavy gold chain 1.54 m long, which is still in the family.)

When she arrived home, all her sisters wanted to emigrate, too, but their mother wouldn't allow a 16 year old leave. Annie and Ellie came out with Mary all with jobs arranged. Mary went to Whiskers and later Ellie did. Annie went to America. At Whiskers, Mary met Patrick Hehir and Ellie, Pat O'Grady. Land was being cut into farming blocks in the Douglas Block near Foxton so John went to Wellington to secure a 150-acre block for the three men.

They moved onto it in 1879. It was covered in bush and swamp, wild pigs abounding. Mary and Patrick were married in Foxton, as were Ellie and Pat. Later John married Anna Bredow, daughter of a German family who owned the next-door block.

They built three small houses on top of the sand hill, which was the only access to the main road. (SH1 now). At first, the three men worked at the flax mill in Foxton, the largest industry around at the time, coming home to clear the bush when they were free.

When enough was cleared but still unfenced, Mary (always the one with great initiative) rode to Whiskers and bought three cows. She milked them herself, putting bells on them so they didn't stray too far into the bush.

She made butter, which she sold to the men at the sawmill in the next road and also rode to Foxton to exchange butter for flour, sugar, salt and clothing. When they had cleared enough land and had reared some calves, the men left the flax mill and worked daily on the railway line being laid north from Foxton to Sanson.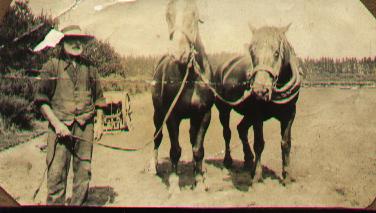 Patrick with his two horses, Tinker and Nugget
As the line progressed northward, sidings were built about three miles apart and farm goods and produce could be transported north and south.

In 1884, the money owing to the Land Company was paid and Patrick raised a mortgage to buy John's share. John moved to Kairanga.

In 1886, O'Gradys house burned down and a new one was built out of totara and matai off the farm. The matai piles are still solid. That house is lived in by Christie, who was born in it. This was the first of the houses to have glass windows. They were brought with great care on a dray from Foxton. Patrick also bought from the owner of the flax mill, a block dray which had been bought for the flax mill from Sydney. It was the first dray in the Manawatu. Patrick paid £10 for it – a fortune!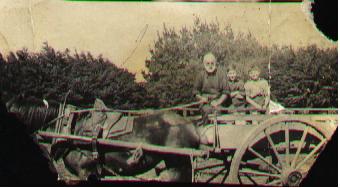 Patrick on the trap with his grandchildren, taking them to the circus.
Mary was an expert with the needle who made clothes for the family and the neighbors, including suits for the men. All they had to supply was the material. One day a woman brought some clothes to her, asking her to unpick them and make three pants and jacket suits for her three boys. There wasn't enough material for the youngest so Mary unpicked her own riding habit to make his. I couldn't disappoint the wee lad!

She cooked and cared for sick neighbours and mothers with new babies. Always she wanted Patrick to buy more land, but he was more cautious.

There were five children-Annie, born 1881, Johnny, 1883; Mary, 1884; Michael, 1885; James, 1886; 10th June - the day of the Tarawera eruption when the darkness and dust drifted even as far as Taikorea.
In the swamp, below the house, there were often wild pigs, a real treat for the households. One day Patrick caught a young pig by the leg and called to young Johnny aged nine to get a rope. Johnny tripped on a log as he ran and broke his leg. They took him by gig to the doctor who set it so badly, it didn't knit and the doctor wanted to amputate it. Mary was adamant it could be saved and so she took him to Wellington by train. His leg was saved but he always had a slight limp.
The boys enjoying a day at the beach
As more cows were reared, the family were all milking by hand twice a day and the children would then set off to school. A private school had begun in a teacher's house but when he left, Annie and Johnny had to ride 9 miles through deep mud and slush in winter to Rongotea. Mary kept visiting the local education minister demanding a school for Taikorea. In the end, he told her they would get their school, she was wearing a hole in his doorstep! In 1890, the school opened with James at four, a first day pupil to make up the numbers.

In 1911, Mr. Robert McIntyre (his grandsons still trading as the Ideal Milking Machine Co.) rode to Taikorea on his push bike and installed a huge Blackstone engine and a Ridd milking plant which had been delivered by train to the Taikorea siding and then hauled by block dray to the shed. He stayed for a week. Aunt Annie remembered the great excitement when he came in for lunch and said: The young ladies (Annie and Mary) can start putting on their glad rags (for the opening of the Coronation Hall at Taikorea) because we are pulling the handle today and they won't be needed in the shed!

Early in the new century, Patrick built a new house on the flat of white pine from the farm. . The older house was converted into a barn for chaff for the horses. In 1911, James married Molly Howes who worked for the next-door family. The chaff house was cleaned out and made habitable for them with a new roof and a bull-nosed verandah. Many years later when it was being renovated, the walls were found to have been insulated with chaff. The white pine house fell into disrepair full of borer.

After Annie married Fred Robin from Guernsey and went farming in Bainesse; Patrick moved to live with James and his family back on the hill.

In 1915, Patrick bought the next-door 150 acres.

All the family were keen on the beach, camping and fishing. Of course, the men had to take turns over the summer as the cows still had to be milked, hay made, crops pulled and fed out daily. Power came in 1924 and a very nervous Patrick was called to pull the switch.

In December 1925, Patrick, still very active, slipped and fell off a load of rushes and died instantly aged 72. The children were at school practicing for the break-up and were told there would be no concert and they were to go straight home. One young fellow chased after them calling out: "your grandfather's dead! " But they didn't believe it.

Sadly, it was all too true.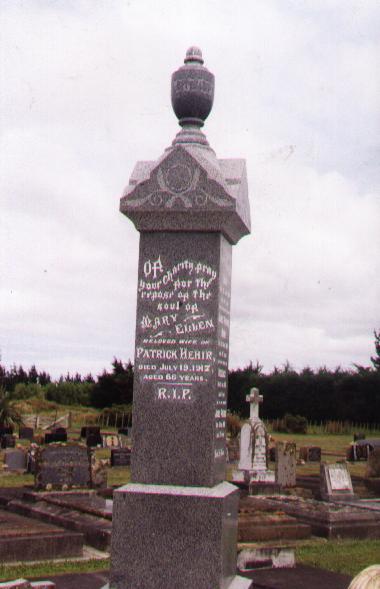 The gravestone of Patrick Hehir, which stands in Rongotea Cemetery
2nd generation – James & Mickey Hehir