3rd Generation – Christie and Jimmy
Jimmy & Christie
In 1912, Ione was born to James and Molly; in 1914, the twins, Jimmie and Frederick, were born but Frederick died of pneumonia four days after his 1st birthday. In 1916, Christie was born, followed by Bernard 10 years later.

They all attended Taikorea School, the two older boys milking before and after school and then running across the neighbouring paddocks trying to get there in time and not always succeeding! Ione had a year of secondary boarding at the convent in Palmerston North but came home at 14 to help look after baby Bernard. Jimmie had two years at St Pat's, Wellington, and then came home to let Christie go as a first year pupil to Silverstream.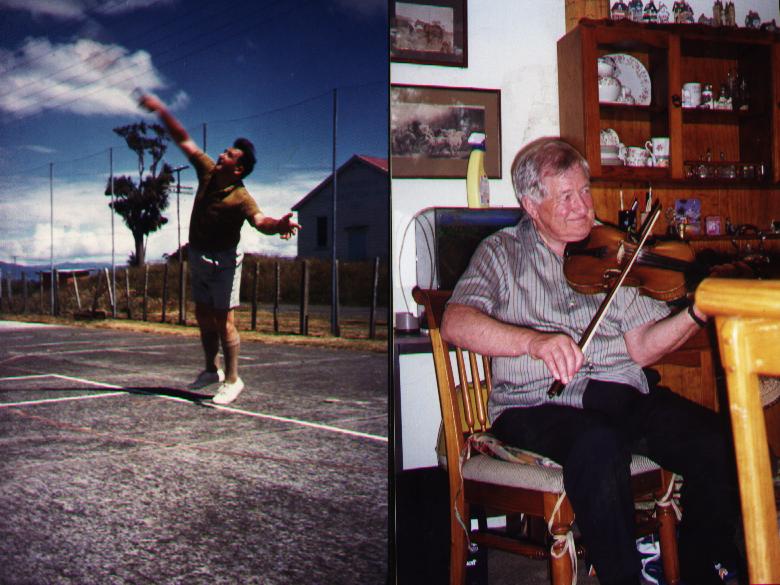 Christie enjoying tennis, while Father Bernard plays his beloved violin.
Unfortunately, at this time, 1932, farmers began to feel the effect of the slump so Christie also came back to the farm. Both boys stayed on the farm, played rugby locally and in Palmerston North. Christie as a junior, colts and senior representative. In 1938, injury forced his retirement but both played cricket, tennis and ping pong around the district for many years. They made their own entertainment. Molly was a good pianist and played for dancing and singing. Once the car arrived, they went to music lessons, Ione and Jimmie, piano; Christie, Hawaiian guitar and Bernard the violin. Bernard had suffered from asthma and the doctor recommended national dancing which he did very well. He has given much pleasure with the violin feet-tapping fast jigs as well as playing for concerts over the years.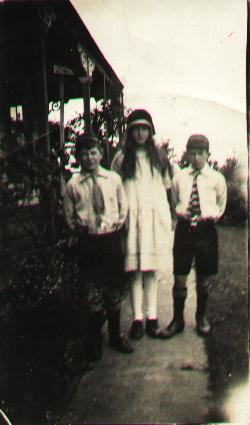 Christie, Jimmy and Ione preparing for catechism
Christie, at 16, ploughed all the back paddocks with a team of four horses. Very difficult as it was a mass of ironstone just below the surface and there were still stumps from the original burn-offs of the bush. Sufficient water was always a problem especially in a dry summer.

Christie's son Chris left Marist at 18 to work at home with Jimmie. Christie was working in Palmerston North from then on

Most years with the larger herd, they had to find winter grazing for the cattle. In 1969, there was a terrible drought on the west coast and grazing was at a premium so we travelled as far as Wairoa searching for good grazing. In the end, on rough, hilly land at the back of Dannevirke and wintered our cows used to the flat terrain of the Manawatu and Chris had to drive over regularly to make sure they were still there. Some died of tutu poisoning. The children of all the generations raised calves in latter years for the school's Calf Club competition. Some were always proud of their calves in the herd but others never looked at them after the drama of CC Day.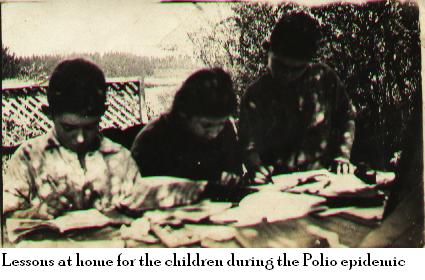 Of Christie's generation, his sister, Ione, married a farmer from Rongotea, had 4 children and she and her husband retired to Palmerston North in 1959.

Jimmie had a lively interest in politics, church affairs, in all sports but particularly in rugby, always making up his teams for the All Blacks. He and Christie many times slept out even in Wellington, to get tickets for the tests. Jimmie died quietly at home listening to his favourite LP in 1986 aged 72.

Bernard, the baby, went to Marist, boarding in Palmerston North and after seven years at the seminary in Mosgeil, he was ordained in PN in 1950. He has served in parishes, been Parish Priest at Brooklyn but has worked tirelessly for the Catholic media most of his priestly life. Of course, he has been called on every time a family member has been baptised, married or died.

Christie married Remai, a school teacher at a local school in 1948 and they have brought up 11 children on the farm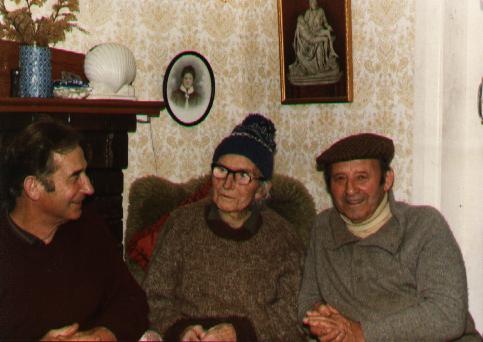 Christie, Jimmy and their father.

4th Generation – Timmy and Kippy