2nd Generation – James & Mickey Hehir
James & Mickey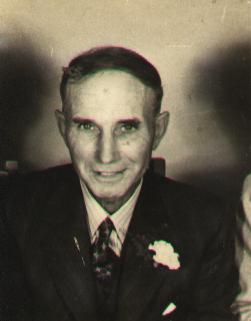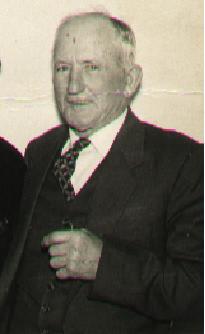 Patrick had five children – Annie, born 1881, Johnny, 1883; Mary, 1884; Michael, 1885; James, 1886, 10th June – the day of the Tarawera eruption when the darkness and dust drifted even as far as Taikorea.

In the swamp, below the house, there were often wild pigs, a real treat for the households. One day Patrick caught a young pig by the leg and called to young Johnny aged nine to get a rope. Johnny tripped on a log as heron and broke his leg. They took him by gig to the doctor who set it so badly, it didn't knit and the doctor wanted to amputate it. Mary was adamant it could be saved and so she took him to Wellington by train. His leg was saved but he always had a slight limp.
James giving his children a ride to school in the morning on the milk cart.
As more cows were reared, the family were all milking by hand twice a day and the children would then set off to school. A private school had begun in a teacher's house but when he left, Annie and Johnny had to ride nine miles through deep mud and slush in winter to Rongotea.

Mary kept visiting the local education minister demanding a school for Taikorea. In the end, he told her they would get their school, she was wearing a hole in his doorstep!

In 1890, the school opened with James at four, a first day pupil to make up the numbers.

In 1911, James married Molly Howes who worked for the next-door family. The chaff house was cleaned out and made habitable for them with a new roof and a bull-nosed veranda. Many years later when it was being renovated, the walls were found to have been insulated with chaff.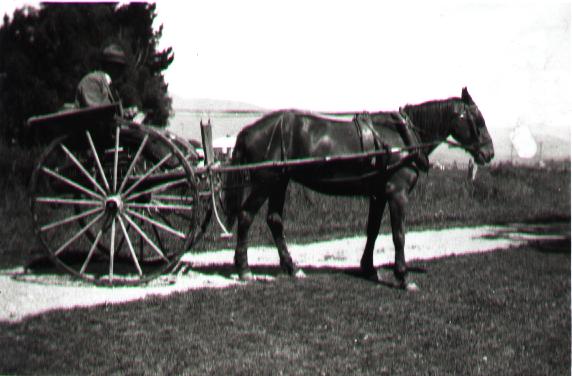 Uncle Mickey driving his trap
The white pine house fell into disrepair full of borer. In 1912, Johnny married Barbara Robinson from Foxton and Patrick bought 120 acres at Oroua Downs where Johnny and his two sons farmed all their lives. Unfortunately, Barbara died of cancer at 31 and the boys and Johnny went to live with Michael till they left school.

Mary, blind from glaucoma, died in 1917, and after Annie married Fred Robin from Guernsey and went farming in Bainesse, Patrick moved to live with James and his family back on the hill. Annie & Fred lived on their farm till they died in their 90s, Fred driving his 1939 Pontiac the day before he died. In 1915, Patrick bought the next-door 150 acres and Ted Henry, a carpenter, who had married Mary Ellen, built a villa type house for Michael and his bride, Elizabeth. Tim and his family live in that house.

During these years, the men were very keen on horses, not only riding but also racing. They had several good horses, one in particular was Himatangi, which was owned by James and an O'Grady cousin; trained by Johnny and ridden in gentleman's races at Palmerston North and at Foxton by Michael. The family still has the Lady's Bracelet from the race of that name he won in 1915.

They also had much enjoyment from racing their gigs, card parties at people's homes. There were dances held regularly in the villages around especially to raise funds for Red Cross during both world Wars.

In 1912, Ione was born to James and Molly; in 1914, the twins, Jimmie and Frederick, were born but Frederick died of pneumonia four days after his 1stbirthday. Molly had to take him to Bulls doctor in a gig and he gave her no hope. She drove home and held her little boy till he died. Molly, grief-stricken, went to her parents in Nelson taking Ione and Jimmie with her.

For three months she stayed there unable to face going back but her mother gently persuaded her that her place was in Taikorea with her husband. Her mother had lost two children on the Atrato" coming to NZ where 23 children had died of measles. She had lost an eight-year-old boy from blood poisoning so she knew what it was to be a grieving mother.

In 1916, Christie was born, followed by Bernard 10 years later.

For the women, there were the monthly Women's Institute meetings or the WDFF and functions at the school or in the hall; farewells for everyone who left the district even if they went only 3 miles away. There were kitchen teas for all the girls who married as long as their family was still in Taikorea. Nothing for the boys as it was supposed their brides would have their own.

A salesman had been visiting regularly wanting to sell James a wireless. In desperation, he left one for them to try, sure that they'd never let it go.

After leaving it two months, he found James hadn't changed his mind; but the children were devastated!

In 1934, a Model A Ford car was bought and then a radio. They made their own entertainment. Molly was a good pianist and played for dancing and singing.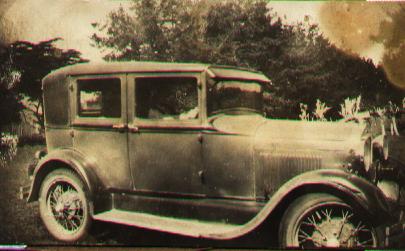 The Model A purchased in 1934
There were frequent droughts, sick animals diagnosed and treated by themselves. In the early days, someone always had a sure-fire remedy -Michael used to dose with kerosene and pepper if a cow got down.

It was probably so terrible that it would either get up or die. Another remedy was a bottle of beer, not all for the cow, perhaps! Gorse planted as hedges ran rampant in New Zealand's climate and lupin a constant menace so close to the coast, renewing themselves in spite of backbreaking grubbing and burning off.

Chemical killers that came later seemed heaven-sent. Paddocks were, in turn, planted in crops and then resown in grass. Until an iron-wheeled tractor was bought in the late 30s, all ploughing, hay cutting, turning and hauling was done with Clydesdales.

The artesian wells in the front on both farms were just soak wells and even the 70ft flowing well for the shed was full of iron and the water pipes were constantly blocking and bursting. In 1937, the shed was renovated and in 1972, when the herd was doubled, a new 400ft. well was driven down to provide a flow of 1400l a minute of clear water. So much so that it can be used in the house

Molly had a stroke and Jimmie looked after her until she died in 1980 at 92 and then, his father, James until his death at 97 in 1983.

Mick died of pneumonia in 1964 and Elizabeth died peacefully of old age in 1989.