Discovering Matamata
Matamata Intermediate School - Intermediate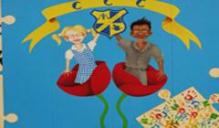 The History and Heritage of Matamata District - Examining our 'Roots'.
Matamata is a small rural town in the heart of the Waikato and nestled at the base of the Kaimai ranges. It has been made famous recently by the Lord of the Rings movies with visitors coming from miles around to see our hobbit house I-Site building. Matamata is also well known for its horse racing and dairying industries, but there is much more to Matamata than that! The students in Room 5 at Matamata Intermediate School set out to find out more.
Students became investigators and storytellers, collaborating with each other to research Matamata district's history and heritage, and in doing so we were able to develop an understanding of how the past has not only been preserved, but how it continues to play a role in shaping Matamata district in present day.
We hope you enjoy learning about our small part of the world and sharing our stories.