Cannon's Creek School
Watercress Tuna in Cannon's Creek
Our school
Carved mural Te Moana Nui o Kiwa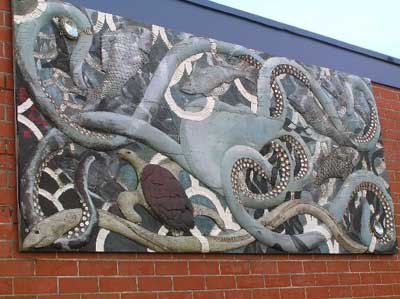 This mural represents the Pacific Ocean which joins Aotearoa with the Islands in the Pacific where many of our pupils come from – Samoa, Cook Islands, Nuie and the Tokelaus.
The central figure of the octopus represents the Te Wheke a Muturangi – the octopus of Muturangi. The is also a rat on the octopus from the Polynesian legend of the Rat and the Octopus. The octopus has only four tentacles and they represent the four winds – Ngā Hau e Whā. On two corners of the mural are two paua shells which represent the two pointing stars of the Southern Cross. The five fish represent the Polynesian Islands through the Pacific. The eel near the base of the mural represents 'Watercress Tuna', from the book Watercress Tuna and the Children of Champion Street. The turtle which is found through the Pacific represents the Cook Island legend of Tinirau and the Turtle and also the Samoan leged of the blind woman, her granddaughter and the turtle. The dark brown surface decoration represents the magicial net Kahukura. The green coloured backgroup represents the Pacific Ocean.
Our murals
We have a big wall at school painted like the Watercress Tuna book.
These two photos are taken of the mural in our hall: