Cannon's Creek School
Watercress Tuna in Cannon's Creek
Sculptures
As part of our group task we had to decide on some kind of artwork that we wanted to do for the project. We decided on sculpture so we asked our teacher to help.
We found a recipe for salt dough in a school journal:
Make a Pendant by Megan Pickett
in School Journal, Part 2, Number, 2, 2006.
Make a Pendant
You will need:
1 cup of salt
2 cups of flour
4 Teaspoon cream of tartar
2 Tablespoon cooking oil
2 cups of water food colouring (if you want to make coloured dough)
Method
Mix all the ingredients in a large saucepan. Stir the mixture well until there are no lumps
Turn on a stove element to medium heat
Put the saucepan on the element and keep stirring until the mixture is stiff and has formed into a lump of dough
When the dough has cooled, down it's ready to use. It can be stored in a plastic bag in the fridge till you are ready to use it.
How to dry salt dough:
Objects made from salt dough can be dried in the sun or in the oven. The oven temperature should be about 105 degrees Celsius. Drying in the oven will take about an hour on each side, depending on how big the object is.
We followed the instructions and put our sculptures in the oven. It was a complete disaster! They melted everywhere and looked like something not very nice.
So we found a different recipe from the lovely Mrs. Nesbit in Room One at Cannon's Creek School and this time it worked much better.
Salt Dough
300g Flour
300g Salt
Approx 200ml water
*Mix together
*Store in plastic bag in fridge
Baking 180C in centre of oven
Small-10-20mins
Large-longer and slower
Will harden as it air dries.
After baking the sculptures we then painted them and left them in the sun to dry.
Here are our lovely sculptures: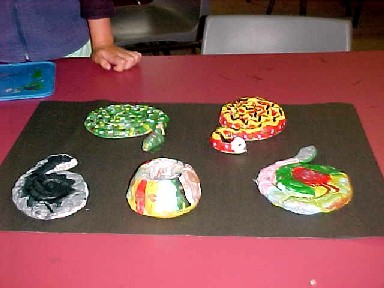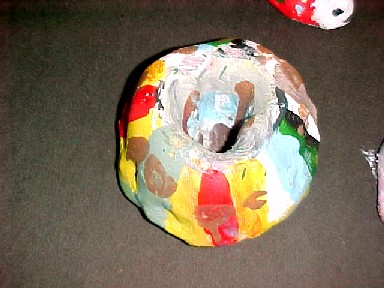 By Jessica, Michael, Tamika, Te Ngaira and Matthew.