By Hamish and Isaak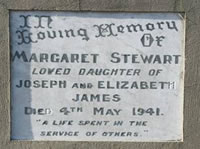 This person might have been helpful to others.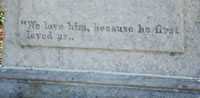 This is a religious epitaph, saying that God loved us first.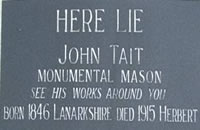 This is interesting, because John Tait was a monumental mason who made a lot of the headstones. It could also mean to see God's works around you – the cemetery is on the top of a hill.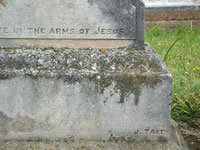 "Safe in the arms of Jesus" is religious. This stone was made by John Tait.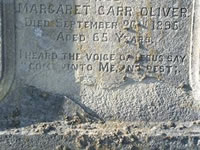 This is a religious epitaph.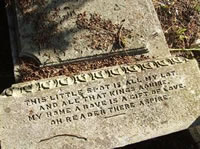 This has a small poem.
We got into this topic because there was a broken headstone resting on the bottom of the grave. It had weird writing on the bottom. We asked our teacher what it was. It was an epitaph.
We wondered why people had epitaphs and what they were about.
We did a survey of most of the headstones and recorded them.
Some Epitaphs:
In heaven we'll part no more.
We shall meet in heaven.
Blessed are the dead who die in the Lord.
Sacred to memory.
Not lost but gone before.
A life spent in the service of others.
We loved him because he first loved us.
O Lord thy will be done.
Gone but not forgotten.
See his works around you.
We found out:
Some epitaphs come from the bible – the people may have been religious. Religious people do it to remind themselves that the dead people have gone to heaven.
Some people put epitaphs on graves to make it more interesting. They often say something about the dead person.