The Beginning
After the draining of the Makurerua swamp in the late 1800s, the lowering of the water levels created perfect conditions for growing flax. By 1900 the swamp was home to over 14,500 acres of flax plants. Soon flax-millers began building mills on the riverbanks, all harvesting flax from the swamp. Soon the Makurerua swamp became New Zealand's largest commercial flax swamp. At the peak of its production (1910-1918), it produced nearly two-thirds of New Zealand's total output of flax fibre.
The mills used the railway to transport their fibre to Wellington, but even though it was so close, it was still across the Manawatu River. Flax fibre had to be either carried by horse three miles to the Linton railway station, or taken by a flying fox winch platform across the river. Both were slow, tedious, and less productive methods of transporting the flax to the trains, but it was all they had.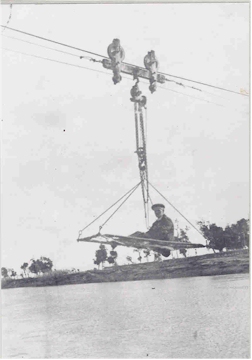 Before the bridge was built, the flying
fox platform was a common but very
slow means of transporting flax fibre
from the mills to the railway.
The year 1914 saw a great war-time boom in the flax industry. The production of flax from each mill increased greatly. When the current methods of transporting the flax were unable to take the extra output fast enough, it soon became a problem and it was apparent that a better means of transporting the flax was required.
On the 22nd of February 1915, a group of landowners and flax-milling investors formed the Tane Hemp Company Ltd. Taking advantage of the situation, they bought the Rangitane mill from one of the company's shareholders and constructed their own large mill, the Tane mill. After two years, when they became tired of the long delays in the transportation of their fibre, they decided that bridging the Manawatu River would be the only way to quickly transport the flax across the river. So planning for the construction of a bridge began.
Next: "Bridge Construction"

Previous: "Home"