Bridge Construction
While plans for bridging the Manawatu River were evolving, the directors of the Tane Hemp Company examined many bridge designs. They finally decided that a suspension bridge would be the most suitable and affordable option, since it could be built safely and would last. They decided to use only the best materials avaliable.
The bridge was to be built next to the Tane mill to connect it with the flax tramways. This site was also chosen for its stable ground, which was free from erosion and on a straight stretch of the river. The river banks there were of the equal height and stability, and there was firm ground for anchoring the cables.
New Zealand designer and builder Joseph Dawson of Pahiatua was hired to build the bridge for the Tane Hemp Company. He had studied the stresses and strains of concrete during a long life of experience in building, including 15 suspension bridges. Construction of the bridge began in March 1917.
The Tane Swing Bridge, as it was known in its early years, was 477 feet (154.39m) long. It was suspended between two reinforced concrete towers that were 48 feet (14.6m) high above ground, and set about 10 feet into the ground. The bridge was 11 feet wide with a 9 foot carriageway. The towers held 16 cables resting upon rollers that topped each tower. These cables were obtained from the Waihi gold mines and had been tested to hold a weight of about 50 tons. They were attached to long, bronzed-steel rods that were anchored into 25 cubic yards of concrete buried 17 feet into the ground.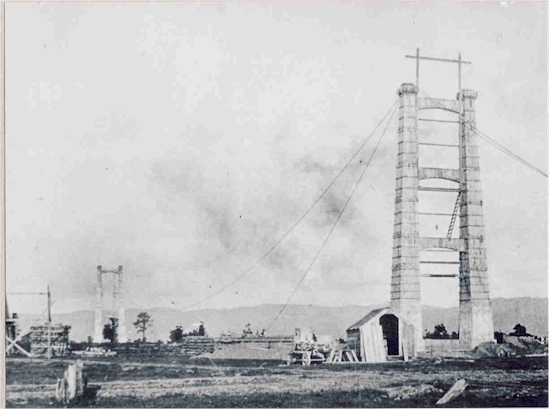 The suspension bridge under construction in 1917. Both concrete towers have been completed. One of the 16 wire ropes is in place, while a second is in the process of being suspended.
The decking, which was held up by the 16 cables, was made up of 8 x 3 inch planks of black beech timber that had been milled from Akatarawa valley (near Upper Hutt). The decking could not be nailed down because the constant movement of the bridge would have lifted the nails, causing punctured tyres. All the iron work on the bridge was done on-site by the Tane mill blacksmith, Ernest Henderson. The bridge was completed in January 1918 at a cost of £2821.
Until its closure in 1969, the Opiki Bridge was the longest suspension bridge built in New Zealand. It was also one of only two toll bridges ever in New Zealand, the other being the Auckland Harbor Bridge.
Next: "Early Years"

Previous: "The Beginning"