Turangawaewae - Our place
Paremata School - Primary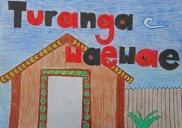 For inquiry this term we have been learning about the history of Porirua, our Tūrangawaewae. We have found out about Te Rauparaha and Te Rangihaeata the chiefs of Ngāti Toa, the Paremata Barracks which were destroyed after two earthquakes, how the whalers caught the Southern Right whales for their blubber and oil, and of the European settlers who arrived during the 1830's.
If you would like to learn about these topics, check out the pages to the left!
By Diya, Chloe, Aria and Emilee.