Monte Christo Gardens
Hi, and welcome to our web page about Monte Christo Gardens. Today Monte Christo Gardens has a café, minigolf, mazes and majestic gardens for adults and children to relax and have fun in. Mr Feraud was the founder of Monte Christo Gardens he started it as a vineyard in 1867. He imported his vines from Victoria, Australia, where he had owned land previously. He had owned a bakery and a restaurant but due to debts he had to sell. He came to Dunstan and prospected for gold down past the old bridge by the Clutha River. He became mayor of Clyde in 1886. He sold his wine in Melbourne, Sydney, Paris and Philadelphia in international exhibitions. Mr Feraud died in 1896 at the age of 76. Over the years Monte Christo Gardens has changed hands many different times. Mr and Mrs Gourley (the owners today) have transformed Monte Christo Gardens into a fun filled place for all ages. Open from 11am to 5pm, December to February.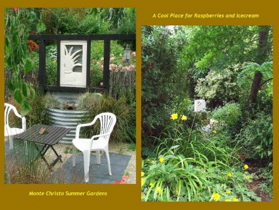 ..MENU..
:Desserts:
Montes Bowl of Berries $6.00
Montes Mud Cake Mission $8.00 (All served with raspberries, boysenberries, ice cream, cream and a rich raspberry sauce)
Cake on a Plate Carrot or Chocolate $3.50
Waffle Cones $2.50 Berry Fruit Combo (Choose any two) Options: Raspberries, Blueberries, Blackcurrants, Boysenberries, Gooseberries and Supreme Sunday $4.50 (All served with ice cream, sauce and chocolate hokey pokey) Sauce options: Raspberry, Boysenberry, Blueberry or Chocolate
Spiders (All served with vanilla ice-cream and fizz) $3.50
Salad Bar for lunches
:Drinks:
Tea per person $2.50
Coffee $3.00
Local fruit Juices $3.00 Nectarine, Apricot, Raspberry and Apple, Apple and Boysenberry, Apple
:Maze 4u:
Green Haze Maze 1.5km of green haze pathways to wander. Various options, you choose the level of challenge.
Rope Maze Ages 5 and over. Clip onto a rope (starting at a knot) and follow it wherever it goes. Ages 2-5 years. Same as above just in a smaller size to help those shorter legs get up and over the rope.
Junior Puzzle Maze Ages 2-5. Follow the yellow brick road to the centre spot, or drive in your choice of wheels.
Number Jumping Puzzle Start on the white "1" and jump in any direction, according to the square you are on. You must end in the middle. NO DIAGONAL MOVES ALLOWED.
Arrow Jumping Puzzle Follow the arrows as far or as short as you like. You move in the direction of the arrow square you are on and must end up on the middle square.
"Knights" Jumping Puzzle The hardest one so far. Each move is like a "knight" in chess, (one up & two along, or two up & one along). You also must keep spelling the word MAZES over and over and end on the middle square.
Monte Python Mini-Golf Enjoy a putt on our 9-hole grass course. Beware the sand traps and stay in bounds.
The Big Ball Room Large bouncy balls to bounce on lie on and hide amongst in a room full of bouncy balls. Bouncy Castle Especially for the young ones to enjoy. Age limit 5 and under.
COST: $5.00 ENTRY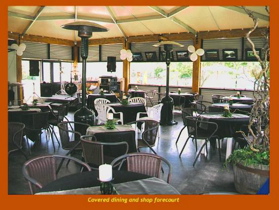 Hire for end of year functions. Fully catered-lots of fun.
Web Page by Jessie and Virginia