Makara Model School
Makara's Little Secret
The Big Event
In September 2005 the Makara Model School and its community went to parliament to see Ruth Paul's book launch. The book was called The Little White Lie.
We drove to the Botanical Gardens and then we walked down to parliament. When we got to parliament we got a special tour. During the tour we got to go inside the debating chamber. We also got to see the Mace. The Mace is a golden pole carried into the debating chamber and is a symbol of authority. Later we went into the Māori room which is used for meetings. Inside the room are lots of carvings on the walls. We also visited the art gallery. We saw a display of chairs that were used in parliament many years ago. We saw a sculpture made with a big rock with ribbons from other countries around the world tied to it. We also saw a magnificent mural hanging from the ceiling.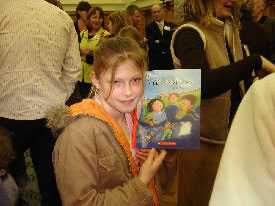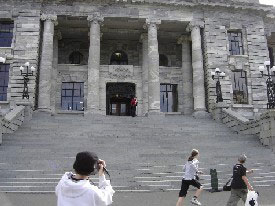 After the special tour we went to the Grand Hall for Ruth's book launch. At the book launch there were tables with food and drink to celebrate with. David Copeland of CWA and the Honourable Marian Hobbs spoke about Ruth, the Makara community and the book. The well known TV actress, Robyn Malcolm, read The Little White Lie to the audience. Some very lucky children from the Makara School got to show the pictures from the book to the audience while Robyn was reading. After the book was read Marian Hobbs officially launched Ruth's new book. Ruth signed books that were purchased by people at the book launch.
We had another quick snack to finish the party. The adults talked and children played. Everyone went their separate ways home as the celebration ended. A good time was had by all.