Makara Model School
Makara's Little Secret
Our School
Full Primary. Decile 7. Between 30–40 students in Wellington.
Makara Model School is a small country school, located in a little rural community in Wellington called Makara. It is the smallest full primary school in the Wellington area, with varying numbers of between thirty and forty students. There are two classrooms, the junior room and the senior room. The junior room is new entrants up to year 4 and the senior room is year 5 to 8. All the classrooms are heated by wood stoves.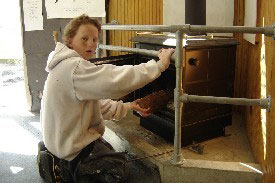 We have two teachers. Kay Mudge is the junior room teacher and Christina Baker is the senior room teacher. The principal, Neil Preston, also teaches the senior room for the second half of the day. On a regular basis, Cheryl Corrado comes in to teach literacy to the senior students. We have two office staff, Kim Bowen and Gerry Hawkins, who come in most days of the week.
We have two classrooms in our school, but there is also a central area in between where a lot of teaching takes place. This is also where we hold our assemblies every Friday afternoon. We have a library with lots of books in it and a shared cloakroom between the two classes. We have a staffroom where the teachers hang out and Mr Preston has his own office.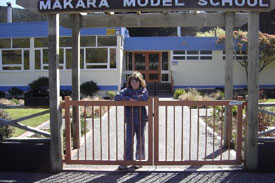 We have lots of artwork around the school, inside and out. We also have native trees all around including our house group trees; pohutakawa, kauri, tawa and karaka. There is lots of grass to run around on and a big playground to play on, including two swings and two gyros. We even have our own pool which we swim in daily in the summer, and trust me it's cold!
At lunchtime we all eat outside around a huge tree that was planted there about 35 years ago. We all play together. There is no conflict between different age groups. Like most schools, we have to wear hats outside in term one and four, but we are lucky in that we don't have uniforms! On the concrete we have two four-square courts which we play on quite a bit. The teachers even join in sometimes. We have a big basketball court and we have a basketball team which practises every Monday at lunchtime. Lots of other small schools come to visit us for special sports events.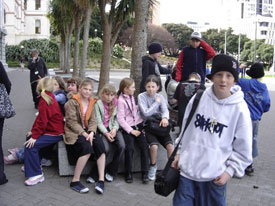 Our school opened for the first time in 1866. It was located down South Makara Road in a building which is now the Makara Playcentre. The pupils of the school had to pay their own weekly fees. The school had one building with an area of 252 square feet and had two rooms. Mr Bowden, an inspector, reported to the Wellington Parliament at the time that the building wasn't painted, lined and there was no fireplace and no privy. But despite these problems, he declared that the school was very acceptable for a small community.
The earliest teacher mentioned in records is Mrs Morgan who qualified in New South Wales, Australia and was at the school in 1866. The roll number at that time was 30 pupils. In 1872 Mr J. Prendeville was appointed to the school and stayed in the community for 16 years. He died while still teaching at Makara.
In 1875 the school moved to where it is now. They still kept the old school down South Makara and the teacher, Mr Prendeville, taught at both schools. In 1877 the two schools combined and used the North Makara building. In 1891 Will Trotter bought the school and built a new building. Pupils began working in the new building in 1892. By 1940 the school building was completed as it is today.
Makara School is now called Makara Model School and the roll varies between 30–40 pupils. The school is very different now compared to when it was first opened in 1866. We enjoy going to Makara Model School and we hope it stays open forever!