Makara Model School
Makara's Little Secret
Our Secret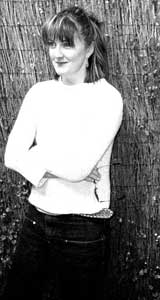 Ruth Paul is our little secret in Makara. She is an illustrator as well as an author. She has written and illustrated two books, The Animal Undie Ball and The Little White Lie. She illustrated Vivienne Joseph's book called Baby Bumble and the Sock Pirates.
Currently Ruth is studying law and is part of the Makara Council. Ruth joined the Council because she wants to make sure everybody has a say in the laws affecting small communities like Makara.
Ruth Paul has two children named Eli and Billy. Eli goes to Makara Model School and Billy goes to Makara Playcentre. Eli is five years old and Billy is two years old.
Ruth's house is eco-friendly, with her mini-windmill and sola-powered panels. One of the windmills is made with 40 gallon drums cut in half. Her house is made from straw and concrete. The straw is used as an insulation to keep the house warm.
Ruth's studio is joined onto her garage. It is pretty small but it's cosy and the windows let in lots of light. She plans and creates new ideas in this space. Ruth is beginning to think up a story for a new book.