Northland School
Stellin Memorial Park
Commemoration
Commemoration
Following the death of James Stellin's father in 1964 the land now known as Stellin Memorial Park was bequeathed to the Wellington City Council. A lookout was built in 1977, but no plaque was ever installed.
The plaque was finally installed after local historian John Bickerton wondered why Stellin Memorial Park was called by that name! He tirelessly researched the topic even visiting Jamesís grave in France.
In 2006 John approached the city council in 2006 about this issue. On the 20th of August 2007 the memorial plaque was unveiled 63 years after his death by his sister Betty. The special ceremony was attended by over 150 people and included the French Ambassador to New Zealand, the Mayor of Wellington, representatives from the New Zealand Defence Force and local residents.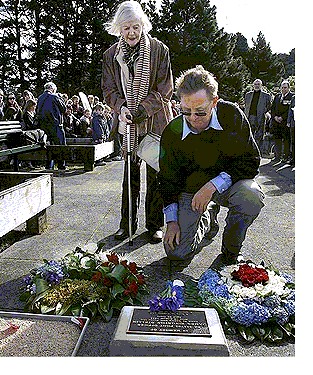 IN MEMORY: Sven Stellin, Pilot officer Stellin's nephew and Betty Nicholle, 84, his sister, honour the man who died saving a French village, and now has a park named after him.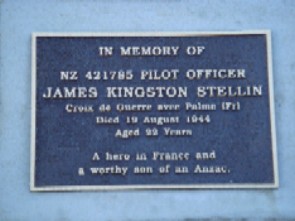 A video was made of the ceremony.