Northland School
Stellin Memorial Park
Memorials
Memorials to James Kingston Stellin
There are three memorials to James Kingston Stellin. They are:
Place Stellin in St Maclou la Briere - Northern France
Stellin Memorial Park - Northland, Wellington, New Zealand
Stellin Memorial Library - Scots College, Strathmore, Wellington, New Zealand
Place Stellin
This is a town square in St Maclou la Briere in Northern France. This is the village he saved in 1944 and the square is named after him so people can remember him.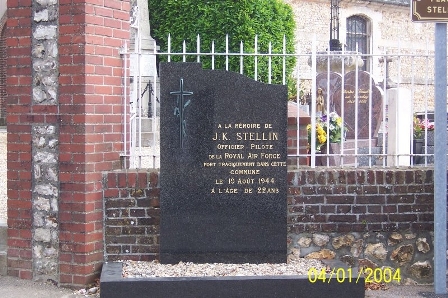 His grave stone says in French "A la memoire de J.K. Stellin, Officer Pilote de la Royal Air Force mort tragiquement dans cette commune le 19 aout 1944 a l'age de 22 years ." Just behind the white fence is his war grave.
Stellin Memorial Park
This is a park in the Wellington suburb of Northland named after him. James's father was a property developer who owned the land who when he died left this land and some money for a plaque to the Wellington City Council to remember his son.
Stellin Memorial Library
Scots College is a college for boys in the Wellington suburb of Strathmore. The school library is named after him because he went to that school. His father gave the school a sum of money to build a library as a way of honouring him. On this memorial board at Scots College is a photo of James Stellin in his pilot's uniform.