Upper Moutere School
Our Story, Our Place
Upper Moutere History
THE PAST TO THE PRESENT
Room Five contains 29 nine to ten year old brains. These inquiring minds have been asking questions about our story and our place at Upper Moutere.
(Scroll down to read our poems and see our photography work about our fantastic school).
We were lucky enough to visit the Motueka Museum when they held a display of Early Moutere Settlers. Here we found valuable information for our inquiry unit. The class had to work in teams to research a variety of local history regarding people, place, buildings and life as an early settler. We filled in some pre-prepared sheets by finding the missing words or facts.
The amount of history about our people and our place was fascinating.
Early Moutere Settlers: MOTUEKA MUSEUM Research
St Pauli
St Pauli was a ship that set sail from Hamburg in 1842 with 123 passengers. Most passengers were from North Germany and the Rhineland.
Why did they come?
Glossary of Terms
Feudal Regime = a system where you could use a piece of land for yourself if you worked for the owner.
Persecution = cruelty
Poverty = very poor
Name 3 reasons why they left Germany
To escape the feudal regime.
To flee religious persecution.
To avoid a life of poverty.
The second trip to NZ took 4 months and had 141 passengers. Approximately how many passengers from both ships found life in New Zealand too difficult and moved to Australia? Almost half
Name some of the jobs people on board the ships used to do in Germany
Joiners, carpenters, coopers, butcher, locksmith, mason, shoemakers, vine dressers and agriculture labours.
New Beginnings
What did they find when they landed in Nelson?
It was a dismal time to land in Nelson. Maori were challenging settlers' ownership of rural land because it had been oversold.
It was expensive to go to urban areas and Wairau was too far away and risky.
Land became available in the Moutere through a lottery.
How did these early settlers bring their luggage, (clothes etc)
In sacks and trunks.
St Paulidorf
What was the Lower Moutere land like?
The valley in the lower Moutere was inhospitable.
Flat land that was alright for cultivation, (growing crops), and building houses was swampy and prone to flooding.
People settled and built in the village of Paulidorf, now known as Harakeke.
In 1845 roads were in the worst state and bridges were all broken down. In the first summer for settlers there was a drought so crops didn't grow. There was little food and settlers ate eels and potatoes.
After 16 months settlers left Paulidorf to return to Nelson.
Sarau
By the 1840's quite a lot of Germans were in the Nelson area. In 1850 resettlement of the Moutere area began. The person responsible was Cordt Bensemann. The NZ Company collapsed and land could be bought easily and cheaply by the Crown. An important fact about the land was that Upper Moutere did not flood. Cordt was an educated man who became a leader in the small growing community. He and his wife Anna were to have nine children.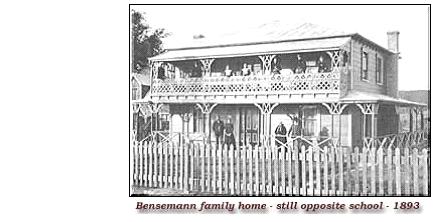 They built a house and later added a 2 storey wing. It became the Moutere Inn Bush Hotel.
In 1858 28 Germans and 23 English were well established and living off the land.
Name some of the jobs they did? Sawmilling, pip and stone fruit orchardists, hop growers and grain growers.
The community of Sarau prospered. Sarau was named after a beautiful village in Germany.
Moutere Inn
Examine the photos.
How did people get around in 1900? Walked, horses, horse and cart.
What other transport is seen in 1920? Cars.
Whose headstone is in the colour photo? Cordt Bensemann
Where is this headstone? St Paul's Church graveyard, Upper Moutere.
St Paul's Lutheran Church
Johann Wilhelm Cristoph Heine moved from Ranzau to Sarau with his wife Anna. They had a 15 room house. The largest room became the first schoolroom.
And was also used as the first Sarau church.
As Sarau grew it needed to build a proper church.
The church was consecrated in 1865.
Silverware from the ship St Pauli was used and a 250kg bell made in Germany was named Anna after Heine's wife. Neudorf locals attended the church and their children went to Upper Moutere Public School. Soon Neudorf needed its own school and in 1870 it was built. It became the Community Hall.
Sarau School opened in 1856. Pastor Heine donated land and a single room school was built mostly of rimu wood.
The first teacher was Johann Jacobsen and the class had 10 boys and 14 girls.
What two languages were taught? English and German.
How did they get to school? Walked long distances.
Since Early Settlement
Proper drainage has been the key to allowing the community to prosper.
The company ditch provided good drainage and led to thriving horticulture in the valley.
By 1878 a second classroom was needed. Upper Moutere School today is further along the road, but the original 1856 classroom is still in use after being towed by a traction engine in 1924. This old building is thought to be the oldest classroom still in use in New Zealand.
What are the dates of the 150 year celebrations at Upper Moutere School? The 25th, 26th and 27th of October 2007.
Answers supplied by Gabbi and her team through excellent information gathering at the Motueka Musuem.
R2 investigated life in the Moutere before the settlers developed houses and roads.
THE PRESENT
Room Five not only investigated the past but examined the present. We wrote poems about the Moutere Area and Upper Moutere School. We focused on what makes this place and its people special to us. Digital photos were manipulated to show why Upper Moutere School is enjoyed by us so much.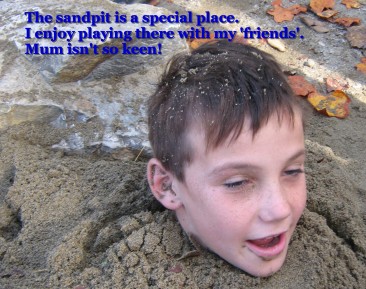 Liam enjoys some time in our new sandpit.
MOUTERE MAGIC
When I walk the tightrope,
I try not to fall, onto Hard Red bark.
When I slid down the pole
I try not to fall 100 miles an hour towards me.

When the bell rings, I go to class,
Waiting for the signal to go.
It's time! 3o'clock!
I can go to my paradise house.
Only half an hour of homework.
Fizzing coke rushes down my throat, crackers crumble Between my teeth, and I go to my room,
My glorious room.
The keyboard invites me to play, the Lego watches me with stubby eyes.
My room is so big, yet so dangerously messy.
Sharp Lego pieces bunch together, ready to
Spike a foot.

It's Saturday now, no responsibilities or work,
Only fun.
I go to the waterhole to check its height.
The dogs drink and play, and my army of calves
Follow me
In three lines.
Once a lone calf fell into the deep, deep waterhole.
It didn't drown, but it was quite a sight.
The fort always gives me fun and adventure.
Even after the years I've been its friend,
It always offers new paths and rooms.

The path home takes me through the goat paddock, and to the beautiful house.
A POEM BY LIAM ROOM 5.
Brad hangs out on the tightrope.
The Amazing Moutere
Moutere School
The history of it all.
There's always a friend.
The helpful flood of people
Coming in from the bus.
They race into Moutere School
Enjoying a day of their lives.

Our forest is a great
Green path to the
Adventurous land of above.
The grass green land
Of the Moutere unfolding
Itself to you in every
Step you take.
The fallen hollow tree
Is like a cave inviting
You to an adventure.
The Moutere is all
You need when
You're surrounded
By helpful people.
A poem by Jacob Room 5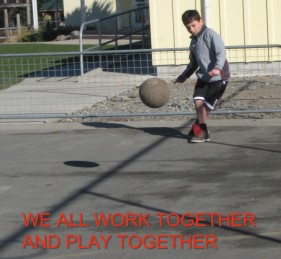 Rob enjoys soccer on the court.
The Amazing Moutere
Every Saturday morning
Playing rugby at the sport centre
Like an all black.
Running, passing, tackling and scoring.
The red coated bell sounds like a trumpet
Chasing the children inside
Their bright and colourful classroom
Ready to have an exciting and
Wonderful day with their
Friends playing all sorts of fun games.
Every morning the bright and golden sun
Shines on the red and white church.
The steeple is like a giraffe
Peeking its head through some thick leaves
Looking down at me.
A Poem written by William Room Five.
We enjoyed learning that we came from many places and understand we are all different. We celebrated our uniqueness by mix and matching parts of our faces.