Discovering our Thorndon
Thorndon School - Primary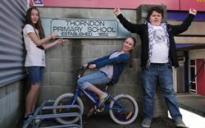 Hi, we are a group of year 7/8 children from Thorndon School. Thorndon School is a friendly school located in Thorndon, Wellington. It is slightly hidden behind the historic Thorndon Summer Pool on Murphy Street.
We have decided to write about Thorndon School's community and history because all of us live in Thorndon and it is one of the oldest suburbs in New Zealand. We thought it would be interesting to research and share all about this historic suburb and find out what it used to be like. Some of us are going to college next year and this is an excellent opportunity to preserve and remember Thorndon School's history as well as the historic suburb.
We would like to dedicate this site to our amazing community and school. We would also like to dedicate it to the great teachers that helped us produce this website.
This website will hopefully teach you something new about this spectacular, historic suburb. Happy reading!