History of the Manu Samoa
Samoa Primary School - Primary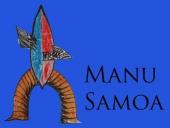 Kia Ora, Talofa, Fakalofalahiatu, Bula and hello to the people of the Pacific and the world.
It gives us great pleasure to welcome you to our story pages about the courageous Manu Samoa. You will find original stories and articles about our national team.
As everyone knows this year is the Rugby World Cup 2011 so we wanted to tell people about the Manu Samoa team, how they improved and how they made it this far. Sometimes they come to our school and speak with us about the future and how to achieve our goals.
Enjoy reading!!!
This Living Heritage story was created as part of the New Zealand National Commission for UNESCO Pacific Islands' Living Heritage project in Samoa.