Avondale Primary School
Us
Avondale Primary School's Logo
A Spider's Web of Discovery,
lets spin a sticky silky web
where you will learn
'Why we have a Spider for our School's Logo'

Here is our School Logo. A red triangle with a very large spider placed on top. The triangle represents the parents, the students and the teachers. We call this our working triangle. The triangle is red because of the beauitful Pohutakawa trees that surround our school. We all work together to create a better future for us all.
For art we copied the school's logo. We had to draw around a large triangle and full it with small rip up red paper and stick it down with glue. Then we drawed a spider and cover it with rip black paper. Our teacher used her glue gun and stuck the spider down on the red triangle. This is call mosaic. We had lots of fun.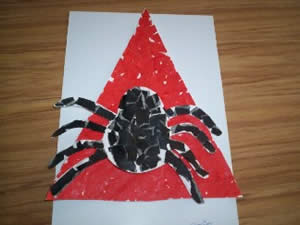 We had a special visitor to our classroom.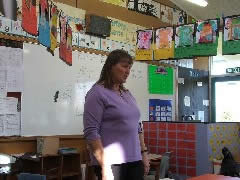 Her name is Grace Hall hallgr@landcareresearch.co.nz and she works for Landcare Research at Tamaki Univeristy, Auckland. Landcare Research is an environmental organisation that specialising in management of land resources, enhancing biodiversity, conserving and restoring the natural assets of our communities. In our classroom we brain stormed first, all the things about the Avondale Spider. Then we made up 8 questions to ask Ms Hall about the spiders. Here are our questions and answers.
Do Avondale Spiders make a spider's web?
They don't make a web because they are hunting spider, but they still have silk that helps the Avondale Spider from falling and hitting the ground hard.
Where do the Avondale Spider's live?
Under bark from trees, under logs, in houses and garages. They are always hiding under things.
Do Avondale Spider's bite or are they harmless?
The Avondale Spider do bite but they are harmless to us.
How big does an Avondale Spider live for?
They grow very big for a spider about 8 inches across.
What does an Avondale Spider eat?
They eat moths, flies, cockroaches, anything that may crawl by them.
Does Avondale Spider come from an egg?
Yes they do come from eggs, the mother lays 200-300 eggs but not all the babies live.
What does an Avondale Spider drink?
The Avondale Spider drinks water. They can go without food for a long time, but they need to have water so that they don't die.
After we found out all this information our teacher thought it might be alot of fun if we drank and ate spiders.
We first thought she was spider crazy but she explained that we could make the spider drinks out of ice-cream and fizzy drink. So we hatched our plan, the flavours that we chose were Crazy Kola, Orange, Lime, Pineapple and Rasberry with vanilla ice cream. We had cups, straws and spoons and we behaved like "little angels" (our teacher always says that).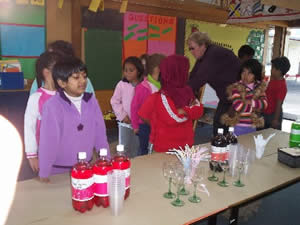 Our Principal caught wind that spiders were in Room Five and rushed down with her favourite hat and helped our teacher. She was going so fast that when we took her picture she was moving around.
We all enjoyed the drinks and we were allowed to have seconds. Mrs Macleod sent for Mrs Cullum who came and made a Pineapple Spider, 'yum' she said.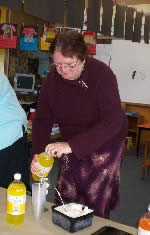 We have learnt lots about the school's logo and why the Avondale Spider is important. There are lots of different logos out in the community that we have looked at like the Girl Guides, Scouts, other schools, different cultures and we thought the most famous one is the 'Silver Fern' this represents us all.
Well our page is nearly finished but I think Room 5 is spider crazy. Just look at the next pictures and see all the spiders.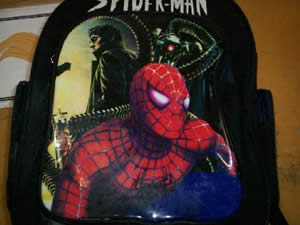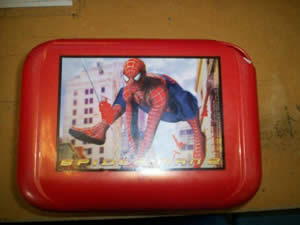 Our page is done we wish you well,
and don't forget
that if you come across a spider
don't kill it
pick it up and place it in the garden
or in a tree
just in case
it might be
an Avondale Spider.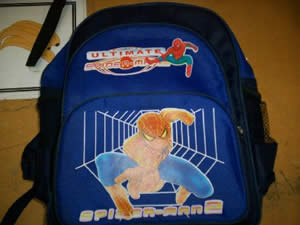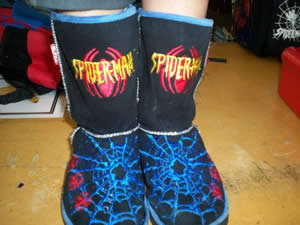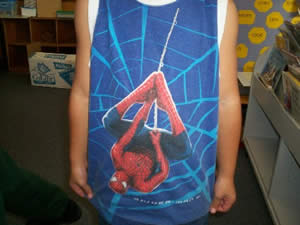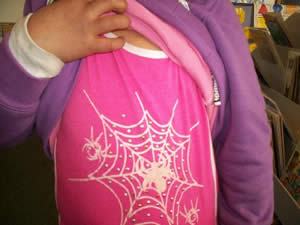 Ka kite