Avondale: Where we came from, where we are now , and where we are going
Avondale Primary in the Past
Whau District School was first established in 1870. The school was located in the Whau Community Hall. In 1882 there was a two-classroom school was built on this site, and the school was officially opened. In the year 1883 the school name changed from 'Whau District' to Avondale Primary School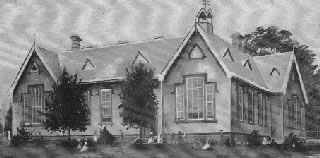 By 1886 the school roll had risen to 175. The School Committee asked the Auckland Education Board for more rooms but were advised to send the senior children to Morningside School instead. By the end of the year the Education Board had been persuaded by the School Committee to build a further two classrooms.
The School Committee decided that a month's Christmas holiday was enough. Ten pounds was raised to start a school library district School 7 pounds
In 1870 the controversy over the Local Hall being used as a school, the School Committee decided to apply to the Government for a new building to be erected. Negotiations were finalised 1882
In 1887 the School Committee from Avondale Primary decided to increase the Christmas holiday to five weeks
In 1890 there were staffing problems back then as the average daily attendance determined how many teachers the school would have. It was agreed that on wet days, when children usually stayed home, if fewer than 50 pupils out of the 170 on the roll attended, the school would close.
In the early 1900's class sizes were enormous. Some classes reaching eighty-five pupils. The oldest teacher we found was Mrs Newman at the age of 97 years old. Her class had over sixty children!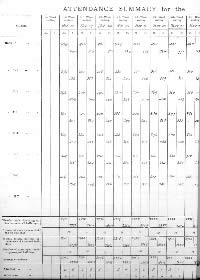 We found this old register from 1919 which showed that there were nearly 600 children at the school then in only 8 classes. Today we have about 370 in 14 classes.
Mr Elliot who is currently still at Avondale Primary started here in 1973 explains how class sizes were quite large back in the days but have now lowered to approximately between 29 - 32 pupils.
LOOKING AT OBJECTS FROM THE SCHOOL'S PAST
The old milk bottle
In the past children got free milk at school to make them healthy and give them strong bones and teeth. Mr. Stockton remebered free milk but said it was warm and yuck!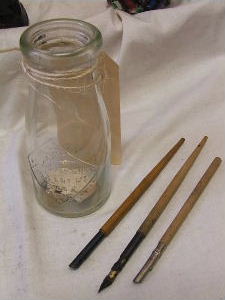 The pens
Children used to use ink pens to write. They were made from wood and metal. You had to dip the end of the pen in a small pot of ink to write. It was very easy to make mistakes or smudge it and the children would get in trouble (maybe even get the strap or cane!).
The old school bag
This was made of leather with a metal buckle. It was very old and smelled a bit! You couldn't fit much in it.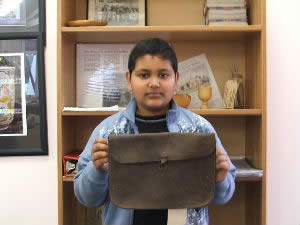 The school lunch box
This box was made of leather as well which was very hard. It had plenty of space for a nice big lunch.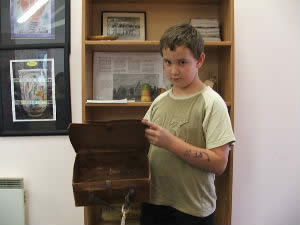 The school plaque
This very shiny brass plaque was on the outside of the school for nearly 80 years from 1915. It celebrated the support of Mr. John Bollard (the man who named Avondale), who helped fund raise and look after the school for over 50 years. Without him there may never have been an Avondale Primary or Suburb, so thanks Mr. Bollard!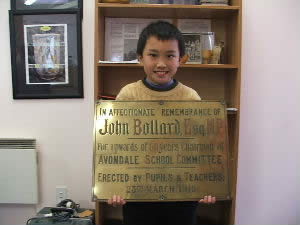 The school registers
We looked at some very old registers. We found out that in 1871 there were 31 children, in 1906 there were 242, in 1913 there were 500 and in 1922 there were 592. We also found out that boys and girls were taught in separate classes.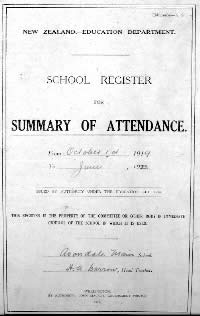 The inspectors report
We looked at a very old report explaining how well the school was doing. The children were taught writing and reading to a fair standard but were taught history and geography badly. They owned lots of maps of Europe, Asia and Africa but none of New Zealand. They were taught needlework two afternoons a week.
AVONDALE PRIMARY PRINCIPALS
Current – Cathie Mcleod

Mr Oates
Mrs Scott
1974 – Mr Lewis
1970 – Mr Sprosen

1968 – Mr Bush
1965 – Mr Marshall
1958 – Mr Gaulton
1950 – Mr Crawshaw
1988 – Mr Rolands
1947 – Mr De Montalk
1945 – Mr Jones
1931 – Mr H. Darrow

1910 – Mr J. Hogwood
1894 – Mr J. Scott
1882 – Mr T. Mayhew
1881 – Mr J. Glenney
1875 – Mr T.H. Smith
1873 – Mr T. Hardwick