Avondale: Where we came from, where we are now , and where we are going
Avondale Recreational Facilities
Recreational Facilities means a place where you can do hobbies. It is somewhere you can go in your free time to do the things you enjoy. A recreational facility might be a building like a R.S.A or a library. It can also be a place that is in open space like a park or a pool.
Some of the recreational facilities in Avondale are the Hollywood Theatre, the outdoor stage, the Community Centre, the RSA, Paradise Ice rink, teh skate park, parks and, of course, the race course. Avondale has a variety of facilities for different aged people because there is such a mix of different people of different ages.
Avondale Community Centre
The Avondale Community Centre is a type of recreational facility. It is by the Avondale library and also close to a local pre school. The Community centre caters for all people
By Maria
Avondale Library
The Avondale Library is a Library with lot's of books, puzzles, computers, new equipment, and other stuff. It is also a recreational Facility. It is located in Avondale. It is close to shops. It is also close to a local Kindergarten.
By Lucy

Hollywood Theatre
The Hollywood Theatre is a movie place that caters for all people. It is found in Avondale, near where the Spin Cycle Laundromat is. The Hollywood Theatre is a recreational facility that most people who live near or do live in Avondale go to watch movies at.
By Esther
Paradice Ice
Paradice Ice is a building with an ice skating arena.You can find Paradice Ice at 136 Lansford Cresent, Avondale, Auckland.
Paradice Ice has holiday programs, ice hockey, ice skating schools and more.
By Bree and Rhianna
As part of our investigation into the recreational facilities in Avondale our class went on a trip to Olympic Park. Although officially part of Waitakere City we thought the facility close enough to be considered local.
Olympic Park
Olympic Park is a fairly new park that has been developed on the border of Avondale and New Lynn. It is a big, interesting park that is for people of all ages. It's a public park.
Olympic park has a big fun climbing net. There are toilets at the park. At the bottom of the park is a sand pit with a playground in it. Near the playground are two slides. There are some nice tables and seats so you can eat. Also at the park are some swings. The park has some spinners that lots of children like. Down a little further is a Basketball court for bigger kids. Around the park is a big pathway that adults can do their exercise on. Near the toilets are two bridges.
Olympic Park is in Waitakere City. It's found on Wolverton Rd near Portage Road. It's found next to St John's ambulance. Children and teenagers can enjoy the basketball court. There is a lot of parking. It also caters for little children. Big children can enjoy the climbing frames and spinners. People of all ages can use the fitness court. Although this is a brand new park there are lots of other parks and recreational facilities in Avondale. Some of the other local parks you might like to check out are Chalmers Reserve and Riversdale Reserve.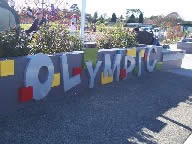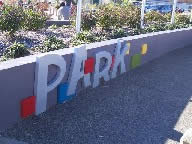 By Esther, Lucy, Bree, Rahil, Daniel, Ngawini