Bellevue School
The Mysteries of Woodridge Farm
Mr Seton Nossiter
Seton Nossiter Park was named after (you guessed it) … Mr Seton Nossiter! Seton Nossiter's parents registered the first licensed dairy farm in the Ohariu/Johnsonville area in 1916. Seton Nossiter carried on the dairy farming tradition and he and his wife didn't retire until he was 70 years old. During the years that the farm was in operation, many school children were taken on trips to visit the farm and often lambs and calves were taken in to city schools to educate the children.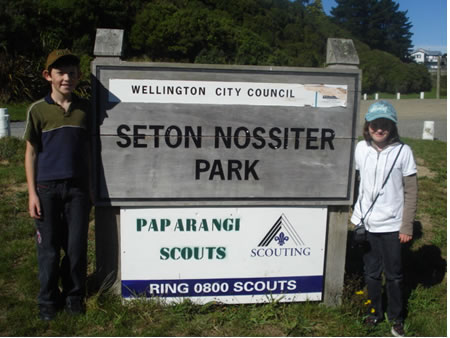 Mr Nossiter was a member of the Hutt County for the Makara Ward from 1966 until the area became part of Wellington City. He was then a city councillor until 1977 and was known for his work on local bodies, including the Johnsonville Lion's Trust.
Seton Nossiter was thrilled to have the park named after him and the mayor at the time, Michael Fowler, said that it was a very appropriate way to acknowledge the years of service that Seton Nossiter gave the Hutt City Council and Wellington City Council. Seton Nossiter himself said that he was particulary pleased because it was a place that he knew well and had always been fond of. He said that he thought it a beautiful area and that he had always been keen to see it opened up to the public.
(We were very lucky to receive some articles about Mr Seton Nossiter in our last session, as a teacher at our school is friends with his daughter. Oliver and Christian were taking notes but didn't get time to type them up and so Ms C has typed up this section.)