World War Two at our School
Mrs Skelton and Mrs Ogle
Mrs Barbara Skelton and Mrs Margaret Ogle (both had the surname Guiness before they were married) are ex-pupils of Campbell's Bay School. They came in to see us and brought old photographs, an autograph book with soldiers messages, badges, certificates and old school reports.
How many people went to the school when you did?
Between 250 - 300 hundred pupils went to school when we did.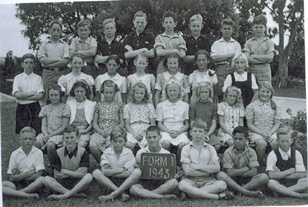 When did you come to our school?
Our grandparents settled in Campbell's Bay in 1928 and we went to the school from 1938 - 1945. We still had to work hard even though there was a war.
At our home we had a small plot of ground which we had to dig , plant, look after and enter in the competition each year for judging.
We learnt to swim at Castor Bay Beach
We got school reports. When children left school, some went to Grammar School or College, and a few went to University. Many had to go to work. To qualify for a job, many pupils went to Seddon Tech and Brains Commercial College, and girls sat the Chamber of Commerce exams.
Did you do any rehearsals for the war, in case the Japanese bombed us?
We had trenches in Centennial Park across the road from school. We had to run across the road and practise jumping into the trenches. Luckily there was hardly any traffic, so we could cross the road easily. Mr Pollett and Mr Jory dug the trenches including the trenches at the edge of the football field. There was only one house close to the school that had a telephone - that was at Mr Simcocks house. He came across to tell Mr Hogwood the war was over.
Did you have trenches at your house?
We had a trench in our garden. If there was an air raid, the neighbourhood children had to go into it. Our Grandmother's job was to look after the children, as our father was away at war and our mother was on duty for the EPS (Emergency Precaution Scheme). The trench was just a big tunnel dug in our garden with planks and soil on the top. It was quite little and wouldn't have saved us if a bomb dropped.
Were you scared?
Sometimes it was scary for Mrs Skelton. It wasn't so scary for Mrs Ogle, possibly because she was younger and more protected.
Did any of your family go to war?
Yes, our father volunteered for the army and went to Fiji in 1940 as Sargeant in the Pay Corps. He also served in Cairo, Egypt, in the Pay Corps until 1943.
Who was the Principal?
The Principal was Mr Wilcox. He was called the Headmaster then and he was very strict He left in 1942 and went to Browns Bay School. Then it was Mr Hogwood.
Were there lots of army people in Campbell's Bay?
Yes. Here is a photo of my sister Margaret and me with some of the regular army on Campbell's Bay beach. One day the soldiers had a practice fight at 5.30 in the morning. They drove army trucks up and down the road with bags of flour as ammunition. When they had finished, the road was a really big mess. It was fun to watch. We had to stay inside when the soldiers were doing their practising, which was a problem if you got caught in the outside toilet. You had to wait until they were finished. The soldiers were very kind to the local children. The soldiers didn't have rationing. They had plenty of food, but the civilians had coupons for everything.
Did you have a gun at your house?
Only during the practice battle. There was a machine gun at the gate and a tank trap at the bottom of the hill near Huntly Road. The soldiers cut all the local trees down and used them on the roads in case the Japanese came on the beaches. They raised and lowered a huge tree with a big wire, right across the road. Plus Campbell's Bay beach had huge rolls of barbed wire on it. They opened the wire each day for us to go through for a swim.
Who lived with you at your house?
Our mother and grandmother.
What countries did New Zealand soldiers go to?
The New Zealand soldiers went to Fiji, Egypt, Greece, Crete, Italy and the Pacific.
What did your mum do for the war?
Voluntary work.
Here we are with our mother. She made our coats and hats. Material was very hard to get, so we were lucky to have such smart coats.
She worked very hard and was very resourceful. She made black blinds for all our windows for the blackout. There were lots of secrets from the children. The adults did not discuss money or things and there was only good news from the Government. There was lots of rationing of food, so mother had to work hard growing vegetables and fruit and being a careful cook. We all used to knit to send garments over to England. The mothers and grandmothers held groups in their homes to make clothes to send to families whose homes had been bombed and who had lost everything and soldiers overseas. Our mother was in the EPS ( Emergency Precaution Scheme) and they met in the Whitney's home, Whitney Dale. It was a convalescent home then, although was later a Hari Krishna house. Mother had an armband and did first aid classes and helped with lots of things.
What else can you tell us about the war and Campbell's Bay School?
We had morning assembly every day and the teachers inspected our hands for clean nails. We sang God Save the King and saluted the flag and then marched into class. There was a lot of marching in those days. We had to be well behaved or we got the strap. Even the girls got the strap, usually on the hand. We had free milk, apples and cocoa in winter. The classrooms were heated with pot belly stoves where the water was heated to make the cocoa.
We got our news from the radio and from short films at the movies. We saw the Queen's coronation and war things before the movie we were waiting on. There was no television in New Zealand then, so everyone listened to the radio. We called it the wireless. We went to the Picturedrome at Milford near where the mall is now. There was also one in Browns Bay called 555 and you sat in a deckchair to watch the movie and afterwards there was dancing.
Mr Green was one teacher and he had a car which was pretty special in those days. Sometimes he would take the kids home in the car. Miss Bourne had a Morrie 8 car.
People didn't have many clothes or much money. Not many people lived in Campbell's Bay then. Lots more people came after the Harbour Bridge was built.
The lucky kids had tow pairs of shoes - one brown and one black - but most people just had one pair. The mums did the washing in the old copper, by boiling up the water with the firewood. Washing day was Monday. We had roast meat on Saturday, cold meat on Sunday and leftovers in Shepherds Pie on Monday. Our mother was very efficient in managing money.
We all had autograph books and we would sign them for our friends. Iif you were good at art, you would draw in them. This is a page written by one of the local soldiers.
To go swimming at Castor Bay Beach we walked down a track through the ti tree from the football field (through where Peter Terrace is now). The boys would hide in the ti tree and jump out to scare us.
Barbara was a pupil in Standard One in 1938 - Mr B. J. Green was our teacher. Our classroom was a marquee but there was a violent storm one weekend and our marquee came down. We had to find our desks and books under the soggy wet marquee. (The school was short of classrooms at that time)Barbara and Yvonne Jory, Members of our Girl Guide Company 'Waipapa' from Mairangi Bay, were taken to Government House in Auckland to make camouflage nets (for use by the army to cover vehicles or gun emplacements). We had to knots the rope mesh and our hands were very sore. We were 10 or 11 years old. This was part of our war effort.
Click here to return to Our Project