World War Two at our School
Campbells Bay during the War
Tank obstacle at Campbell's Bay - where Huntly Rd is now.
Another picture from the Alexander Turnbull Library War History collection of soldiers at Campbell's Bay between 1939 - 1945.
Barbed wire on the beach at Campbell's Bay, and soldiers lining up behind the pillbox.
Huntly Rd then and now.
The road leading down to the beach - the soldiers thought the Japanese might land here with tanks.
The tank barrier could go up and down. It was made from a local tree. Even the farmers fence wire was taken for defences.
Not many houses were in Campbell's Bay during this time because it was before the Harbour Bridge was built.
There are still lots of holes like these, where the posts were dug in to hold the barbed wire.
We went to see this part of the beach. This is where Mr Buttles house is and we climbed in his pillboxes. We saw where the posts for the barbed wire were pounded into the rocks, the holes are still there.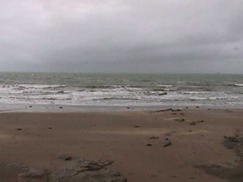 Campbell's Bay Beach in 2003
Click here to return to Our Project