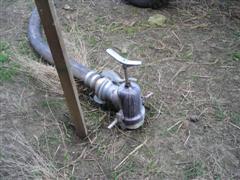 The picture above shows where an irrigation hose (off a gun) is attached to a water hydrant in a paddock.
The pictures below show some of the development of the North Otago Irrigation Scheme.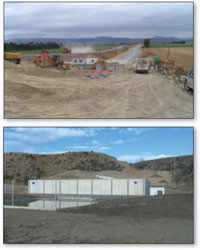 If you want irrigation on your farm you would need on farm pipes so you can get the water to hydrants and so you can irrigate your farm.
There are two types of pipes you can get for irrigation, polyethylene and PVC. The polyethylene pipes can be up to 50mm wide and and pipe installers can lay up to 2000 metres a day.
The PVC pipes can get up to 450mm wide and the pipe installers can lay up to 200metres a day. There are no standard prices for the pipes because they come in heaps of different sizes.
When you are laying the pipes you have to look out for rocks. When you are putting down pipes in the trenches, 600mls of dirt has to be put on top of the pipes so in the winter the water in the pipes doesn't freeze and so that farmers can work paddocks without disturbing the pipes as well.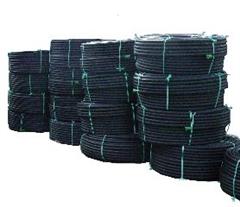 Polyethylene pipes.

PVC pipe.
If a pipe in the ground burst there would be water everywhere. If a pipe in the ground does burst you have to dig it up and replace it. But when it bursts and everything is going well, the valve should shut off.
If you are a farmer you can lay your pipes on your farm yourself, unless you are going under a road or someone else's farm - that is when you have to be qualified.
© 2007 – Page created by: Hamish and Camden