History of Samoa Primary School
Samoa Primary School - Primary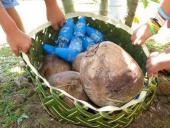 Talofa lava tagata o le Vasa Pasefika ma atunu'u mamao!
O la matou aoga o Samoa Primary i luga o Mauga Fiafia, Vailele - Uta. E 'oli'oli lo matou agaga e fa'ailoa atu le tala'aga ma mea taua ua tutupu i totonu o la matou lotoa ma le aoga.
Soifua ma ia manuia.
Welcome people of the South Pacific and countries of the world!
We are students from a primary school called, Samoa Primary. The school sits on top of Mt Fiafia, Vailele - Uta. We are both honoured and privileged to show you the history and activities in our school.
God bless.
This Living Heritage story was created as part of the New Zealand National Commission for UNESCO Pacific Islands' Living Heritage project in Samoa.