Samoan success
Evans Bay Intermediate School - Intermediate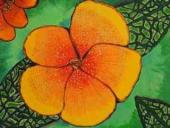 Talofa Lava.
O i matou o tamaiti aoga mai Evans Bay Intermediate School i Ueligitone, Niu Sila. Ua matou tusia ni tala e uiga i le Gagana Samoa o loo fa'aaogaina i totonu o le matou aoga. Ua matou iloa foi le aoga tele o le Gagana Samoa mo i matou le fanau e ala i tauvaga o tautalaga, aemaise le a'oa'oina o tu ma aga fa'asamoa e ala i le vaiaso o le Gagana Samoa sa auai ai le matou aoga.
Soifua ma ia manuia.
Hello there.
We are students from Evans Bay Intermediate School in Wellington, New Zealand. We have written stories about our Samoan successes here at school. At EBIS we celebrate Samoan success through our Samoan Language classes, the Samoan speech competition we attended, the school's Poly Club and also the Samoan language week our school took part in.
Enjoy reading our stories. We are very proud of our successes!
This Living Heritage story was created as part of the New Zealand National Commission for UNESCO Pacific Islands' Living Heritage project in Samoa.