The ponding area is where water is kept to irrigate land. The water flows through five flood/control gates from the Lower Waitaki River and comes into Bortons Ponding area.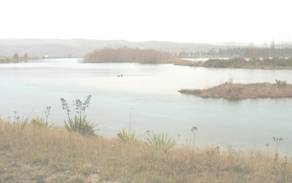 Here you can see part of the Bortons Ponding area – as you can see it's rather large and would have taken a while to develop.
Bortons Ponding area is used in two ways. One way is where the water flows down a canal and is used in the North Otago Irrigation Company Irrigation Scheme that begins by going through the Black Point pumping station. From here the water is pumped up the hill and along pipes to farms ready to irrigate (80km of pipe has been laid for this scheme).
Water from the Ponding Area is also used with the help of gravity for the Lower Waitaki Irrigation Scheme, built in the mid - late 1970's. This water irrigates thirty-two thousand rugby fields down on the Waitaki Plains - such as around Papakaio. This water is used for irrigation, house water and major industries like the freezing works in Oamaru. It also supplies Oamaru with its drinking water.
The Bortons Ponding Area existed long before the N.O.I.C. ( North Otago Irrigation Company). The N.O.I.C take their water from this area as the Lower Waitaki Irrigation Scheme were happy to share their pond and this is where they gained resource consent to remove water from it. Now quite a few farmers around North Otago irrigate using N.O.I.C. as their scheme. The water for this scheme comes from the Lower Waitaki.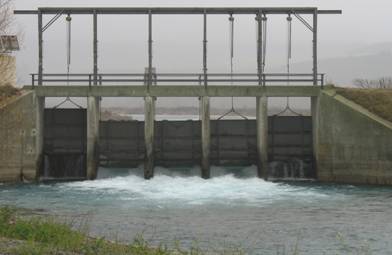 These are the water intake gates for the Bortons Ponding Area. You can see water flowing in from the Waitaki River.
© 2007 – Page created by: Madeline, Hamish and Sam