Motueka South School
Our Town
Our Town - Our Timber
Our Town - Our Timber

In the beginning..
We brainstormed all the businesses, companies, activities that make up our town. We realised that Mouteka was a really awesome place to live!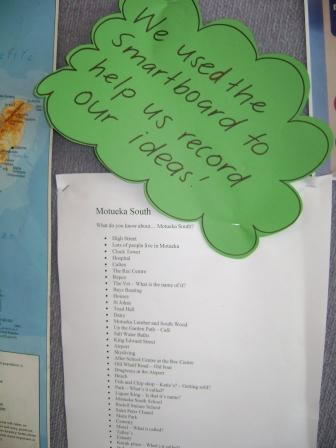 We needed to focus on one business in Motueka so we chose one that a class members parents owned and operated because we thought that it would make it easier for us to get quality information.
Once we had decided Miss S. went to that company and took some pictures for us to see what it looked like. We had lots of questions and we got to ask them when we visited the lumber yard (we'll tell you about that later!)
Here are the photos and the information we found out about them!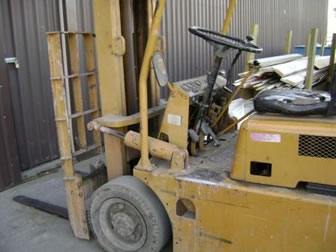 The forklift can lift 3000kg. Craig mainly drives the forklift and sometimes other people too. The forklift would have been bought at an auction. Written by Dion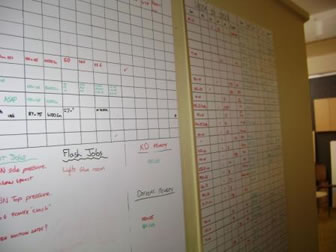 This board is used to see what wood needs to be finger jointed. Written by Tiana.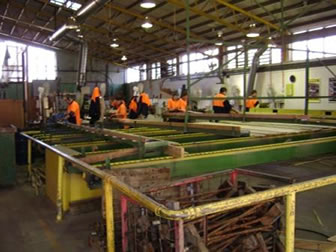 The people are using docking saws to cut out the knots in the wood. The machine being used is called the docking saw. The people are wearing high visibility gear so they can be seen. This machine was made in New Zealand with modifications (changes) done by the owner. This machine has been used for many years.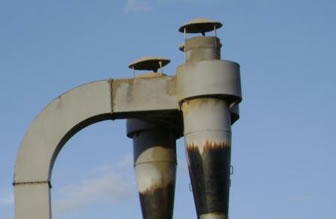 These chimneys are called silos and are used for extracting (taking out) the woods shavings and dust in the factories. Written by Jayna.

We found out that this machine is used for cutting picket fences. They get the wood from many places in New Zealand. The finished picket fences get packaged up and sent to Christchurch. This machine is 15 years old and it has also had modifications (changes).
Written by Dion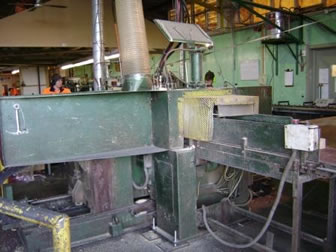 Our class trip to the lumber yard...
When we went for our class trip to the lumber yard we all had to put in earplugs to protect our hearing. We saw lots of other protective clothing such as high visibility vests, steel capped boots and hard hats.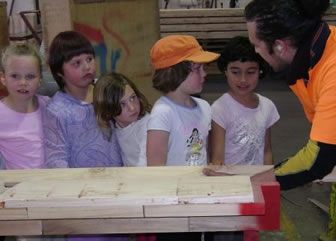 Ray took a group around the factory and showed us lots of cool things like the paint machine, the forklift and the finger jointer machine.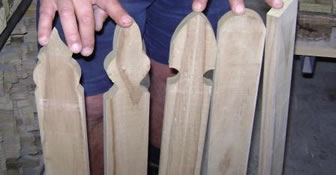 Steve showed us the 5 different picket fences that they make. They are called different things to match the shape of them. Can you guess which one is which?
Blank Picket Fence 2. Colonial Picket Fence 3. Gothic Picket Fence 4. Acorn Picket Fence 5. Round Picket Fence
We used the photos Miss S took of the machines to sketch a small portion of the machine. We had to work carefully to get the shading in the correct places and to add details.
Other questions we wanted answered...
Questions were kindly answered by Steve - thanks Steve!
1. How old is the business? The company is 14 years old.
2. How long has the company been in Motueka? The business has always been in Motueka.
3. What sorts of things do you make there? They make lots of things. For Example: Picket fences, garden edging, window framing, scotia, banisters and skirting boards. They also paint the wood depending on what people have ordered from them. The picket fences they make have different shapes on the top. There are 5 different ones with different names. Acorn, Colonial, Round, Gothic and Blank.
4. When were the machines invented? We couldn't actually find out the answer to this for certain but we decided it was about 100 years ago, about the same time as the steam engine.
5.What machines do you use? They use lots of machines like the tenon saw, docking saw, Festo, finger joiner, Watkins, and Weinig. These machines smooth out the wood before it gets cut up into fences or different things.
6. How many machines do you have? There are 12 machines altogether. There are 3 planers, I finger joiner, and 1 Weinig, Watkins, Festo, tenon, and docking saw, and a rip saw. Eva and Courtney
7. What do the kilns do? The kilns dry out the wood so it can be used. (Information provided by Hamish and Isaac)
8. How hot can the kilns get? Temperatures can be set from 10-90 degrees because it depends on how much wood there is, how thick, and how wet. Dion
9. Where do you get the wood from? The wood is from the forest around Nelson, Eaves Valley, the West Coast, Christchurch, Wanganui, Blenheim and Invercargill.
10. What do you do with the things you make? They wrap up the finished things with plastic and send most of it to Australia, Auckland and Christchurch.
Well done to all of Room 5 who asked questions, recorded answers, worked together to plan and complete statements, and type them into our website here.
We hope you enjoy reading our work!