Motueka South School
Our Town
TALLEY'S FISHERIES
Our BIG question:
How important is Talley's to our community?
To begin our inquiry topic we brainstormed in pairs all the things we already knew about this business and recorded our ideas on these charts with the Talley's logo that we are familiar with.
Next we wrote some questions we didn't yet know about Talley's but wanted to find out such as:
Where are all the factories located?
Who is in charge of Talley's?
How many big trucks do Talley's have?
How many people do they employ at Talley's in Motueka?
Which is the most popular flavour of icecream?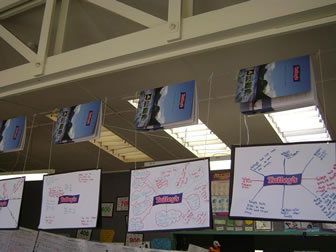 From class discussions we soon realised that many pupils have family members who work at the factory or are associated with Talley's in some way.
Robbie's dad is the head electrician.
Josh's dad works in the coolstore.
Taylor's gran works in the icecream factory.
Robbie's dad supplied us with some colourful brochures – these turned out to be extremely helpful during our research.
Some pupils found this website www.talleys.co.nz which also had lots of information and answered a few more of our questions.
A small group of pupils contacted Talley's via email and we all wrote letters to Mr Talley inviting him along to our class to speak to us about his company.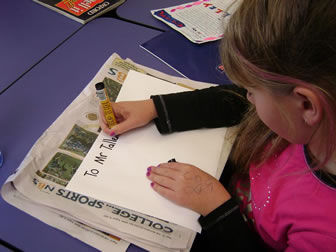 Unfortunately Mr Peter Talley was unable to make it. However, Mr Doug Loder came along instead and spoke to us about the different factories and answered many of our questions about their fish and vege products.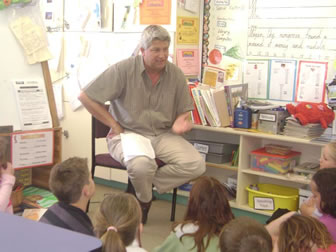 Taylor's grandad (Pa) is a very experienced fisherman in our district. We invited him along to talk to us about the fishing industry. He had lots of old photographs of the different boats that he has used to catch fish from. He told us lots of amazing stories about life on a fishing boat.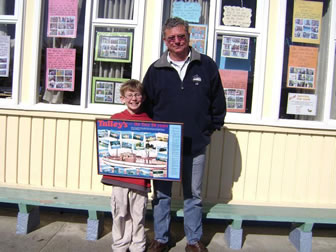 Mrs Latimer also had some photos and a book for us to look at which were useful.
We also discovered that Mr Ivan Talijancic established Talley's in 1936 - that is over 70 years ago! They have now shortened their surname to "Talleys" as it is easier to pronounce as well as easier to market as a brand.
Miss Robinson took some pupils to New World. Here is a photo of Kaitlyn and Hannah recording the names of the various products that were stocked in the freezer. We were surprised at how many different vegetables are produced by Talley's.
Jade and Taylor found lots of delicious icecream and shellfish on the shelves such as mussels - did you know that there are 3 different flavours of mussels? (plain, garlic and chilli)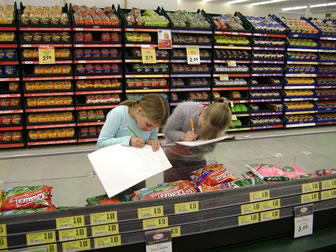 On another day a group of pupils also went to the Talley's shop. It is only open Wed, Thurs and Fri from 12 noon until 6pm.
They interviewed Joan who works at the shop. She showed us around and told us that she had been there for over 30 years!
The shop sells discounted fish and produce to the public now, as well as to Talley's workers.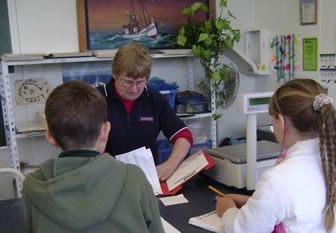 As we were leaving the shop we saw this huge freighting truck near the factory gates - it was full of fish and was heading to Nelson so it could then be shipped overseas.
Talley's export their products to mainly Japan and France.
This is a photo of the Rongatea II. We based our artwork on this fishing boat. We created collage boats using lots of different materials and they are now proudly displayed on our classroom wall.
At the end of the term our class visited Talley's so we could see for ourselves just how important it is to Motueka. Barry told us that they employ between 300 and 500 people which is a lot of people for a small town like ours.
We could tell by the number of cars in the carpark when we arrived that there were a lot of people inside.
We all had to wear white coats and hairnets before we entered the fish factory.
One group went to the fish factory while the other group went to see the icecream factory - then we swapped around.
Here we are washing our hands - the taps had special sensors so that as soon as our hands went near the taps, they turned on for us automatically! (very cool, we need them at school)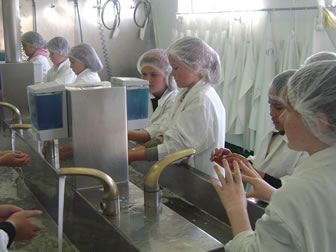 This is the scallop factory - it was very noisy and smelly inside. Most of the workers who opened the shells wore headphones. They had special knives to open the shells and they were very fast after so much practice.
These people are grading the scallops and taking out the ones that aren't up to export standard.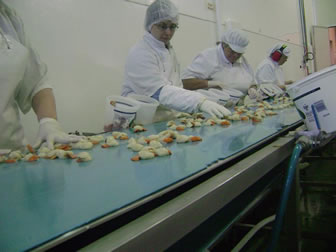 Robbie did some independent research at home about Talley's. Here he is with his wonderful work. He took some photos and then used Microsoft Publisher to present them. Well done Robbie!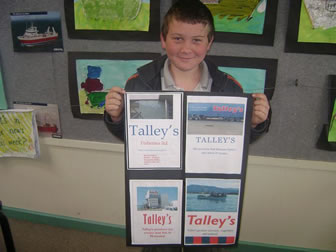 Our trip to Talley's was an ideal way to conclude our Inquiry Topic. We reflected on it's importance to our town.
After all these years the headquarters is still in Port Motueka which is amazing considering it is such a big company now. Many people in our town rely on Talley's as their main source of income.
Without Talley's many people would be unemployed.
GO TALLEY'S - WE THINK YOU ARE GREAT!
(even if it does get a bit smelly at times!!)