Cultural connections
St Annes School - Primary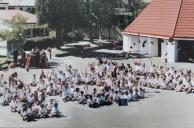 St Anne's is a culturally diverse school with eleven different ethnicities combining together to give unique and interesting flavour to school life.
The school is situated in the heart of Newtown in Wellington. We are a full Catholic primary catering for 5 year old to 13 year old students.
At St Anne's School we are lucky to have the opportunity to experience new things, visit different places and push ourselves to attempt new challenges. The Year 8 students from Room 9 decided to write about a few of them to share with you.
The picture that is featured was from our 100 year anniversary, celebrating 100 years of teaching and learning on this site.
This Living Heritage story was created as part of the New Zealand National Commission for UNESCO Pacific Islands' Living Heritage project in Samoa.