Definition:
A K-Line is a long pipe with pods (that are like sprinklers) which are placed down the pipe. K-Lines are very good irrigators as they can irrigate flat and hilly farmland.
Quick Facts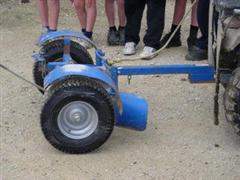 This is a trailer used to move K Lines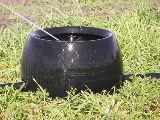 This is a K Line pod
In 24 hours one pod can apply 50 mls of water.
There are 15 to 18 metres of pipe between each pod.
You can vary the number of pods on a K-line depending on the length of your irrigation runs.
K-Lines need to be moved every 24 hours.
K-Lines are very labour intensive as shifting each line individually can take a large amount of time - especially if you have a lot of lines to shift. For example - If you have one person shifting ninety lines it will take approximately six hours to shift them all.
K-Lines are never used for cropping as they can't be pulled through crops and they only water low vegetation, this makes them best for dairy and sheep farmers.
You shouldn't take K-lines up steep hills as it could lead to the rolling of your ATV/four wheel motorbike (they are rather heavy and could slip back down the hill pulling you with them).
You move K-lines with four wheel motorbikes or similar.
A few years ago you had to get off your bike to hook the K-line on to shift them. These days to make it easier to move K-lines they have made a little trailer that hooks on behind your four wheel motorbike. It works when you drive over the K-Line (which has a ball and string at the end of it). You pull a rope and it grabs the ball and then you can shift the K-line. When you want to drop the K-line off you pull another rope and the trailer releases the ball and the K-Line.
© 2007 – Page created by: George, John and Natasha