TWIN RIVERS QUARRY

By Brooke
Photo supplied by Road Metals
The Twin River Quarry was started in 1999 as a site to crush gravel for the road between Oamaru and Palmerston. The Quarry is now 8 years old. All the gravel that is crushed at this site is extracted from the Waianakarua River. This photo was taken in May 1999 of the crusher plant. At Twin Rivers, Mr Cooper works for Road Metals who own it.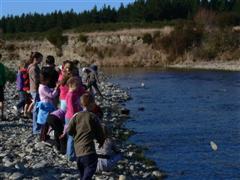 Diggers put gravel from the river in the crusher. They take it away on the back of a truck.
It is called Twin Rivers because two rivers join together there.
© Copyright Kakanui School 2007