Unlimited Paenga Tawhiti
Historic Faces of Christchurch
Ballantynes - a store of significance
The year 1854 was a big year for the Clarkson family. David, his wife Esther and sister Elizabeth went into partnership with a cousin, Thomas Atkinson to develop a 'New Drapery Establishment' in Cashel Street. It was first advertised in the Lyttleton Times on the 23rd of September, 1854.
After a while Thomas got sick of this business, leaving the partnership near the end of 1856. David was left alone with this business and no one to help him run it. At the same time Thomas left, a new two-storey extension was added to the shop and it was renamed Dunstable House. The business flourished. In 1864 it was bought by William Pratt who took the business even further. He led the way by improving staff and making additions to the building in brick before selling the building to John Ballantyne in 1872.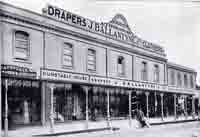 The business has been known as Ballantynes pretty much ever since. The most significant event to happen to the business was the fire on 18 November, 1947. Two hundred and fifty customers and staff were taken outside but no one told the staff on the upper floors. In the end 41 people died in the blaze.
The events that took place on that day are well recorded in various books and papers. (See 'Ballantyne's inferno, 18 Nov. 1947: New Zealand's most tragic fire disaster' by Jim Johnston or a children's book called 'Ballantyne's fire' by Kevin Boon. Or access various resources online at http://library.christchurch.org.nz/Heritage/Digitised/BallantynesFire/).
After the fire the building was rebuilt. It stands now as a key store in our city's Cashel Mall. This is what it looks like today.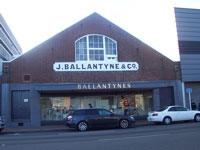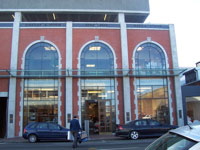 © & posted by Bridget Source: Ballantynes : the story of Dunstable House 1854-2004 / Gordon Ogilvie.