Unlimited Paenga Tawhiti
Historic Faces of Christchurch
The Christchurch Hospital Nurses Memorial Chapel
It was built during 1927 and 1928 to commemorate the nurses who died in the Great War (1914-1918), and also the nurses who died in the 1918 influenza epidemic. It is New Zealand's only memorial chapel to women who died in any war or the influenza epidemic, and is of vital cultural importance. Noticeable features of the chapel are the stained glass windows by glass artist Veronica Whall, the gothic style of the architecture and the detailed brickwork.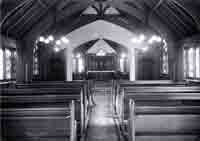 The Nurses Memorial Chapel was built as a memorial specifically for nurses Nona Hildyard, Lorna Rattray and Margaret Rogers who died in WW1 when the transport ship, the Marquette went down. The ship was torpedoed on the 23rd October 1915. Ten of the 36 nurses on board drowned. When the news of the nurses unfortunate death reached New Zealand in November a collection was taken at a memorial service dedicated to erecting a memorial chapel in their honour.
Towards the end 1918 the influenza epidemic hit New Zealand, claiming over 8,000 lives. Fourteen doctors and at least 30 nurses caught influenza and passed away after nursing the sick. In Christchurch one doctor and two nurses died and the nurses Grace Beswick and Hilda Hooker are also remembered in the Nurses Chapel.
The chapel was threatened with demolition during the mid-1970s when the hospital wanted to use the space to build new operating theatres. However, the public was strongly against the demolition so the plans were put aside. The building itself is very different to its surroundings – a brick cottage and a neat garden encircled by a busy road, car parks and the hospital building. Today, the cottage is used as a nice quiet place to visit and look around. Years have taken many things but not the building's charm.
© & posted by Michelle Sources: The Christchurch Nurses Memorial Chapel official website –
http://www.cnmc.org.nz/
The Heritage section of the Christchurch City Libraries website