Unlimited Paenga Tawhiti
Historic Faces of Christchurch
The Old Chief Post Office
Our chief post office is a large Italian/Venetian Gothic styled building dating from the 1870s. It was built in Cathedral Square, and originally housed not only the post departments, but also several Government and Administrations office buildings. Today, it is used as the Information and Visitors Centre, with a restaurant/cafe/tearoom.
It was designed by the government architect William Clayton, an English-trained architect born in Norfolk Plains, Australia. He designed more than 300 buildings in Tasmania, and came to New Zealand in 1863. He died soon after the foundation stone was laid in 1877, and his more experienced assistant P. F. M. Borrows supervised the completion of the building.
When it opened in 1879, it was just 'the new Government Buildings in the Square', with the post office just one of the many departments. The others gradually moved out, until it became known as the Chief Post Office. It was the first telephone exchange building in New Zealand.
The Exchange remained there until 1929, when it moved to Hereford Street. There have been some additions to the Post Office, beginning with the extension to the westward end of the northern façade in 1907, and ending with Telecom's massive seven-storey building behind the north and east wings, which destroyed some of the original building.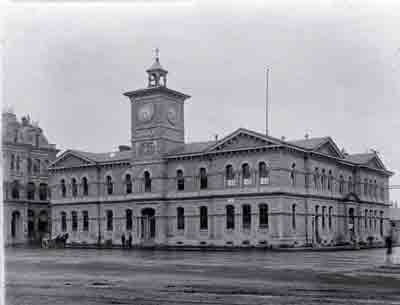 It now acts as the Information and Visitor Centre. The tourism industry in Christchurch is serving an increasing number of overseas tourists so needs a large, prominent space. One of Christchurch's most 'important nineteenth century public buildings,' the old post office is an incredible feature of Cathedral Square, and must be preserved.