Unlimited Paenga Tawhiti
Historic Faces of Christchurch
Deans Cottage
Built in 1843, this building below is classed as the oldest European building on the Canterbury Plains but by 1900 it had been demolished. The building we now visit as the oldest building is called Deans Cottage and looks like this today.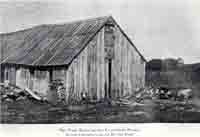 The Deans brothers, who built the cottage, emigrated from Britain. William Deans left for New Zealand in 1840 and John left in 1842. They didn't like the land which was allocated to them in Wellington and Nelson by the New Zealand Company, so the brothers applied for permission to farm at Puturingamotu (Riccarton), which was given to them on condition that they wouldn't settle near Maori plantings.
Samuel Manson, who had sailed to Port Cooper with John Deans, built the first house at the farm in Puturingamotu together with William Deans. They built the house using wooden pegs because the nails were left in Wellington - this is the building seen in the old photo. Once the farm was established the Deans brothers bargained with Maori owners to see if they could lease more land.
The Deans brothers then bought more stock, selling their produce in Akaroa and Wellington, and their wool in London. An agreement was signed in 1848, saying that the farm would be called Riccarton. In 1851, William decided to sail to Australia to buy more stock. His ship was wrecked off Cape Terawhiti, on the 23rd of July and William drowned.
After his tragic death, John went back to Scotland, and married Jane McIlraith. Soon after their return to Riccarton in 1854, John caught a chill, which later developed into tuberculosis, and died. On his deathbed, he asked Jane to preserve the remaining native bush on their property forever. In 1856 the main house was started and soon Jane and her son moved from the cottage into the house. Both the cottage and the big house are open to visitors, as is the bush walk.
Sources: http://library.christchurch.org.nz/Heritage/EarlyChristchurch/DeansFamily.asp,
http://library.christchurch.org.nz/Heritage/EarlyChristchurch/RiccartonBush.asp,
http://www.riccartonhouse.co.nz/deans_cottage/
© & posted by: Isabelle & Danielle