Fitzroy School
Holy Trinity Church
Our Team
The Research Team was made up of nine year five and six students from Room 8, Fitzroy Primary School,New Plymouth.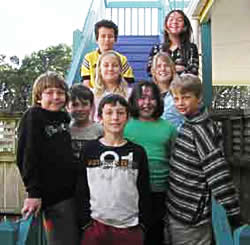 This was our team:
Jesse: I did my own page because I was the odd one out (bad luck!!!) My wonderful page is on the roof and wall construction.
Maukino and Matt: It took us five weeks to find the information because there was hardly any thing about Holy Trinity's windows. It was very confusing for us two.
Naomi and Morgan: We thought the history of this church was really interesting. We started off with the stories and myths of the church and ended up with history.
Karina and Sarah: We've done the church interior, and it was sort of hard because there was so much information, and we had to put it in a language you could understand. We didn't know it would take us this long to do it, we thought it would take us about a week, but it took us about a term because we are always busy at school.
John and Hayden: We wrote about 80 years at Holy Trinity Church and the bell. We had to interview Mrs Bromley. She was very interesting person to interview with all of her knowledge about the church. Our interests are rugby, miniball, cricket and golf.