Milford Primary School
Operation Phoenix North Shore
Ben Watson visits Thalpitiya village in 2005.
Ben Watson is a reporter from the North Shore Times. Operation Phoenix North Shore sent him to see the damage the tsunami had created, to report on the progress they were making in rebuilding houses, and to show North Shore people that we needed to raise money so more houses could be built.
Here is Ben's story which appeared in the North Shore Times, Thursday August 11, 2005.
When the tsunami came , Sunil Perera gathered up his two children and his wife and they fled their village in terror. When it was finally safe to return, the family found their home had been destroyed.
In the small village of Thalpitiya, on Sri Lanka's west coast, 45 other homes had also been wrecked by the Boxing Day Tsunami.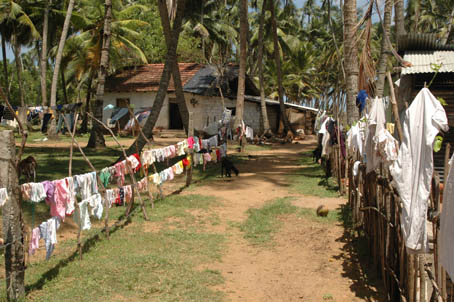 Photograph by Ben Watson
This picture shows a clothesline which is hung from tree to tree in Thalpitiya village. Sometimes they have to use sticks to hold the clothesline up as well. They don't have washing machines. I think it is really hard work. ( Ben)
I'm in Thalpitiya to see how the rebuilding effort is coming along. Compared to the others, the village was relatively lucky. Only one person died, although many were injured, particularly in the rush to escape the swirling water.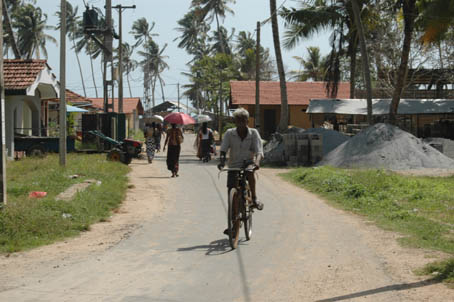 Photograph by Ben Watson
Sri Lankan people shelter under their umbrellas to be protected from the sun. Some people use bikes to travel from place to place. In the background is a house being rebuilt because it was badly damaged by the tsunami. (Puruna)
Standing on the beach, I stare out to the sea to imagine what the tsunami must have looked like. It is impossible.
A wave more than 10 metres high crashing down and ripping apart buildings like toy blocks-there's no way anyone can imagine the terror that must have induced.
If it weren't for the destruction this place would be paradise. A beautiful beach with palm trees, everywhere you look.
But even now the ruined buildings are a stark reminder that, while the village is moving on, the recovery effort is far from over.
As I wander around some of the wrecked homes, the spirit of the people is amazing. Some have lost everything and yet they have picked themselves up and are forging new lives.
A local man prepares coconuts for us to drink, thanking us for coming. It is a humbling experience.
Everywhere I go there are smiles and waves from the locals and their children.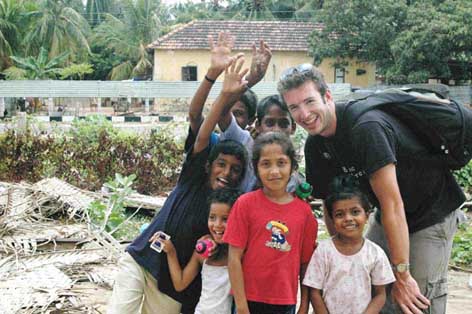 Photograph by Ben Watson
Ben Watson is with some happy Sri Lankna chidren who like having their photo taken. Behind the group are lots of broken branches. The house in the background has been rebuilt or survived the tsunami .( Joshua)
Much of the world has moved on from the tsunami - it's human nature to do so. But it's not quite so easy for Sri Lankans.
In some areas people are still living in tents, and many more are in shed-type accommodation. Wells are contaminated by seawater. Others have been destroyed.
Photograph by Ben Watson
This Sri Lankan mother is holding her child beside a well that has been destroyed during the tsunmi. I wonder where she is going to get her water from now? ( Theodore)
Some people feel traumatised by the tsunami . They do not feel safe going back to the beaches, let alone swimming in the sea again.
After the disaster the North Shore City Council, with the help of aid agency Sarvodaya Shramadana Movement and New Zealand based Operation Phoenix, adopted Thalpitiya.
Council officers have already sponsored a home, which is almost complete. Sunil Perera and his family will soon move in.
Mr Perera worked as a fisherman before the disaster but is now a labourer. He has been helping build his new home.
Photograph by Ben Watson
Operation Phoenix is helping Mr Perera build his new house because his old one was destroyed by the tsunami. He will have to have new windows, doors and a new roof. Although his house has been destroyed, the trees are still standing ( Mason)
Work has started on several new homes , but funds have run out and many lie waiting to be finished.
Teachers tell how the children have battled on in spite of everything, even though the psychological scars will linger for years.
The tsunami has created wide spread poverty and children often go hungry, making it hard for them to concentrate.
Nearby Dharmapala Vidyalaya school , for instance, is under-resourced and often suffers at the hands of vandals from surrounding areas.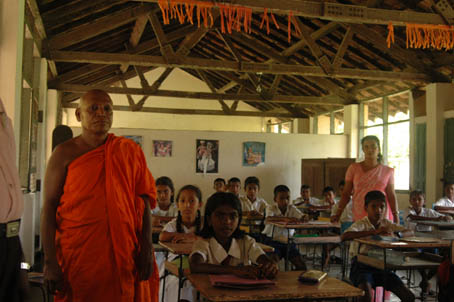 Photograph by Ben Watson
Wherever you go the tsunami is never far from people's lips. It has impacted on everyone's lives.
Many are keen to tell their stories, and it is hard to know what to say to some-one who has lost their wife or children.