Selwyn House School
Brighton Pier
New Brighton Pier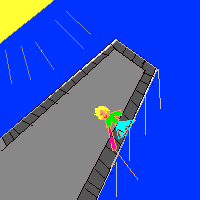 New Brighton Pier is a place for enjoyment and fun.

In 1860, five men walked through the swamp and flax to reach New Brighton area, and ever since it has been a place to relax.

Thomas Free built a cottage on the banks of the Avon river and called it 'New Brighton'.

In 1872, Mr J.H.Hopkins bought 60 hectares of land in the area which is now the shopping centre. He built a hotel on the land that he bought. He had a paddle steamer built to accommodate 70 passengers. The paddle steamer went from Christchurch to Brighton. It also kept the river clean from weeds and watercress. The steamer was named The Brighton by the Mayoress. Later on, Mr Hopkins had some financial problems. By the end of the year 1874 he had to sell his paddle steamer and his hotel.

At first you couldn't find much transport to New Brighton. Soon, the area was so attractive that by 1887 they got a tramway built. First, there were horse-drawn trams, followed by steam trams, and later there were electric trams serving people in the area. The horse-drawn trams took 45 minutes and the faster trams took 25 minutes. By 1879, coaches ran twice a day.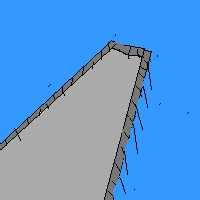 By 1889, 670 sections had been sold in New Brighton, and by 1897 the borough of New Brighton was established.

In 1888, a pier at New Brighton was begun. The pier committee decided to build the pier 700 feet long and 20 feet wide. The first pile was sunk in May 1891. The pile was 24 feet tall, 12 feet above the water and 12 feet under the water. One year after the pier was opened, Charles Agar bought it. He opened up a fun arcade with slot machines where you could get your fortune told and lots of other things. He had a record machine which played cylinder records. For some people this was the first time they heard recorded music so it was very popular and had special seating.

For some time, John Anderson made trips from Lyttelton to Brighton. In 1909, a gala was held in New Brighton and the trams carried 14,107 people to the beach. With the start of the 40 hour week, the shops in the city of Christchurch were closed on a Saturday, from 1945 to 1981.
The old pier was demolished in 1965 because it was unsafe and it was more than 30 years before a new pier was built. A group was set up to organize the building of a new pier. A plan was drawn up, and the new pier cost $4,000,000 to build. It is enjoyed by the people of Christchurch and visitors to the city.

A 1998 calendar featured photos of the New Brighton Pier by Peter Seymour, a Christchurch photographer.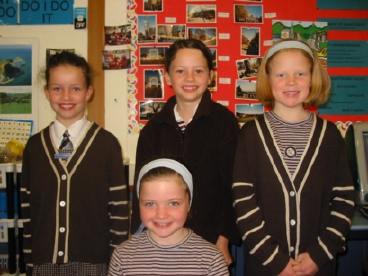 This page was made by Amelia, Jessica, Tyler (back) and Georgia (front).
Next Page