The Arts Centre is on Rolleston Avenue. The Botanic Gardens are across the road, next to the Canterbury Museum. There are lots of interesting craft shops and some restaurants in the centre.
"The Old Canterbury College building has lots of character in the structure itself and fascinating shops to browse through. In recent times, it has developed a lively character and expanded very effectively to earn recognition," said Isabella's grandmother.
In the weekend, the Arts Centre comes to life with wonderful sights and sounds, artists, crafts people, musicians and buskers at the markets. There is also an international food fair. The weekend market opens from 10am -4pm.

The Great Hall is a fantastic place for concerts, talks, special events, receptions, cocktails and dinner functions. Special features included in the Great Hall are kauri panelling and Oamaru stone.
The Arts Centre used to be the University of Canterbury. The lectures were held in rooms, and the exams were held in the Great Hall. It was very cold and draughty. The Students' Association building, where everyone used to go to relax, is where the Dux de Lux restaurant is now. The Academy movie theatre used to be the University gymnasium.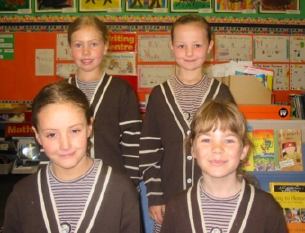 This page was made by Lucy, Isabella (back), Nina and Jessica-Clare (front).

Next Page